Pebble Beach
8/15/10
Pebble Beach
I met with Tom K in his 330GTS and hooked up with Zac Dugger in his 550 Maranello after lunch On Pebble Beach Sunday. We decided to descend on Pebble Beach a little late this year to avoid some of the crowds. There are two ways I like to do the Pebble Beach Concours D'Elegance. You either have to arrive before 7am and watch the cars drive onto the lawn, or arrive after the judging around 2pm. Arriving early beats most of the crowds and gives you a chance to see the cars without three people deep standing around blocking your view. Forget about talking to any of the restorers because for them it's crunch time, and there is no time for idle chit chat. Arriving late after the judging, one can feel the release of tension after the judging is over. People are more willing to talk about their cars, and the restorers have finished most of their work.
I decided to have a relaxing morning, and head into the Pebble Beach insanity a little late, and from what I heard, it was the right choice. It was crowded all morning, and even for my friends who arrived early-o'clock, they were met with a lot of people. If we had arrived with them, it would have been a long day of standing around with all the masses, so I'm happy we arrived "rock and roll" late.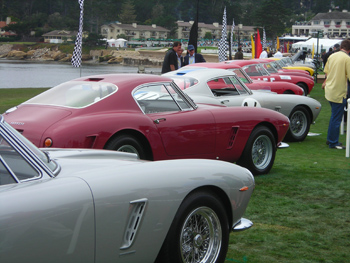 Ferrari Short Wheel Base cars were the honored guests celebrating a 50th anniversary. The public was roped off from getting close, but it was nice to see so many gathered in one place.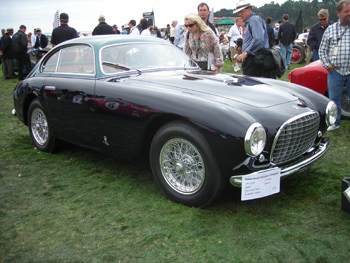 There was a very nice 1951 212 Export that caught my eye among all the other cars. It's proportions and two tone color combination was beautiful. I still like the power from the larger displacement V-12s of the later cars, but the detail and the shape of this one makes up for a lot!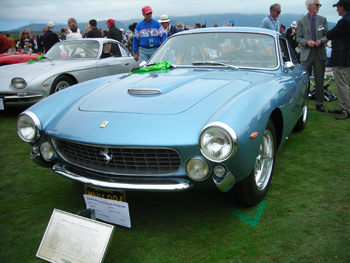 In the Preservation Class, I found this wonderfully preserved Lusso.

The interior showed all the marks of a well preserved car with years of use. I sometimes find looking at these cars with the evidence of its history far more interesting than a completely restored car. When so many cars on the lawn at Pebble Beach are restored to a very high standard, it's the original cars like these that stand out!

Bugattis stand out for me as well, and 1939 Type 57C was very nice.

I love looking at the details of the pre-war cars. Look at the way the glass marker lights is formed into the body work, and how sharp the trailing edge is on the front fender. These cars offer a feast for the eyes and very little compromise was made when it came to executing a design.

The work continues on to the interior with the details. I could inspect cars like these for hours!

At the end of the day, we set ourselves up near the exit of the event to watch the competitors leave. It's probably the most expensive parade of cars you'll ever have a chance to see!
We took a walk over to the Gooding Auction to watch the cars cross the block. The car that I wanted to watch was Lot 118, a Ferrari 250GT Pininfarina Coupe.


Auction Photo
It's auction estimate was $175K- $225K and it sold for $187K. It was another "Survivor car" with a lot of original details. If one were to buy this car with the intention to restore it, the cost of purchase and restoration would far surpass the value of a #1 condition PF coupe, but I don't think that is where this car is headed.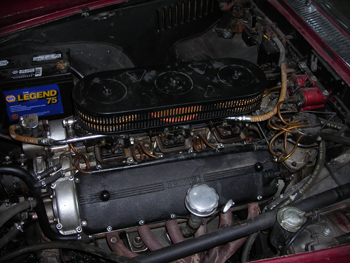 Original cars like these may be headed into a group we rarely see in the U.S.. They may someday be valued as much as a completely restored car because of their one time originality. Only time will tell, but I wish all the luck to the new owner!
It was a great end to another packed Monterey Weekend, and it was great meeting and chatting with everyone at all the events and activities. I put faces to names to at least a dozen more people I've met through this website, and caught up with friends I've known for years. This weekend is the original form of "Social Networking," and I prefer it to doing it all virtually! This website has brought us all together, but it's the real human interaction among enthusiasts that completes the fun. Thanks for making me a part of it.
I've got a lot of irons in the fire on my return to NY. There's a lot of interest in a few cars I've found for sale, and people trying to decide if it's the right time to buy. I'm not an economist, nor do I think anyone really knows, but people keep asking me if the collector car market has reached a bottom yet. I've seen the very desirable Ferraris still fetching top dollar, but the 2+2 market seems to be a good buy. Some cars have even fallen another 10% in the last year, but will they fall even more? Who knows, but if the economy recovers, I believe these prices will recover faster than you will be able to buy. We're also reminded everyday in the Vintage Ferrari Business, rough 2+2 cars are worth more as parts than as a whole car if they go any lower in price, so there is an economic bottom for rough Vintage Ferraris.
After a busy summer of travel and car events, I'm ready to settle into some work. There are some small projects that I will be getting involved with, but I'm always interested in hearing about what you have. It's always a pleasure to work with Francois' and to have him show us what he's learned from the Factory and the 50 years of turning wrenches. His knowledge is a treasure to us all, and if you have something you might want us to work on, let me know. You can choose anyone to work on your car, but how many can share the experience with the Community like I can on this website? Working on your project, and writing about it is what I love to do, and if you think you feel the same car e-mail me!
Previous Restoration Day
Next Restoration Day
Home page