Miscellaneous Summer Stuff
8/26/10
Miscellaneous Summer Stuff
It's been a great summer filled with all sorts of travel and Ferrari events, but I still have a couple of things I have not gotten around to posting! I taped a couple more Podcasts while I was out in LA in July, which I have not had a chance to post, but I finally posted one of a drive in a 430 Scuderia. I'm also listed in i-Tunes now, so you can find more podcasts through i-Tunes!
I'm also working a podcast about Ben's 330 I recorded out in Southern California last July, and some of the behind the scenes recordings I did for an upcoming Boxer article for FORZA. I'll let you know when we get a publication date.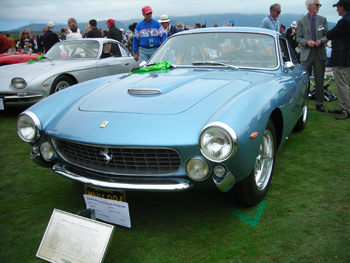 While I was at Pebble Beach, I reported on a wonderful original Lusso entered in the Preservation Class at Pebble Beach. The owner contacted me after seeing his car on my website, and sent me this note:
Hi Tom,
Thanks for the kind words on my Lusso at Pebble Beach. It is 5955GT, the last Lusso made, and was fortunate enough to win the Post-war Preservation Class this year. Very cool for me, as I drove the car all the way down Highway One on the coast from Point Reyes where I live, north of San Francisco, to Monterey, had it parked outside the hotel all week, drove it on the Tour Thursday, washed and waxed it Saturday night in the hotel parking lot with some friends of mine, drove it to the lawn at the crack of dawn Sunday, won, packed it up and drove it home Monday. And, of course, it is running better this week than it ever has. Roger Hoffmann
Sounds like Roger had a great time with his original Lusso. Good on you!
I've been spending all summer with Karp's Brake Service trying to get my equalizer fixed, and although we're making progress, it's still not done! The update is Ron had a seal manufacturer make custom molds and seals for the equalizer and bench tested them on my unit. After applying constant pressure to the unit, a small leak was detected, and the seals were rejected. Ron believes the hardness of the rubber (durometer) needed to be adjusted so the seal would work better on this application. We're waiting for the next set of seals to come in so Ron can bench test the new seals. We're determined to get to the bottom of this issue, and can understand why so few people have addressed this issue before!
On a completely different direction, I have a friend of mine that is trying to figure out what this is and what car it belongs to. I offered to post it here although it looks like it belongs to a car much earlier than what we're used to seeing on this website, but I've found the knowledge base of the viewers on this site much deeper than just Ferraris!

It's some king of light…

And it's of French origin?
Any ideas, please e-mail me. Thanks!
Previous Restoration Day
Next Restoration Day
Home page