Nereo Iori
10/25/10
Nereo Iori
I learned of the passing of a Nereo Iori, a legend in Vintage Ferrari circles. Here is an obituary from Greenwichtime.com:

NEREO IORI, 80, a resident of Greenwich since 1966, passed away at Stamford Hospital on Thursday, October 21, after a long and courageous battle with lung cancer. Born in Modena, Italy, on March 27, 1930, he developed a passion for motor racing young and was recruited early to work for Ferrari S.p.A. automobiles in Maranello, Italy where he regularly interacted with Enzo Ferrari in the "sala prova". Nereo was soon enlisted by Luigi Chinetti to run Chinetti's North American Racing Team (NART), which was the sole Ferrari distributor in America. He had developed a stellar reputation as the pre-eminent Ferrari master technician and was revered for his technique of tuning a Ferrari engine with a stethoscope. He enjoyed years of great success with the North American Racing Team at the 24 hours of Daytona, 12 hours of Sebring, 24 hours of Le Mans, Laguna Seca, Watkins Glens, Buenos Aires, Bridgehampton and many others. Nereo worked closely with many of the top drivers of that time, such as Jackie Stewart, Graham Hill, Sam Posey, Pedro Rodriguez, Mario Andretti and Paul Newman. He was well known for his sense of humor, generosity, and kindness. Nereo was always willing to help anybody and everybody and sought nothing in return. He had a deep love for animals. Nereo is survived by his beloved and devoted wife, Piera, and his son, Massimo, Lana, and granddaughter, Isabella, all of Greenwich. He will be profoundly missed. There is a viewing to be held at 10 a.m. Tuesday, October 26, at the Leo P. Gallagher & Son Funeral Home, 31 Arch St., Greenwich, followed by a Mass of Christian Burial at 11:30 a.m. at St. Mary Church, 178 Greenwich Ave., Greenwich. The family prefers that in lieu of flowers, memorial contributions may be made to the American Lung Association, 1301 Pennsylvania Ave. NW, Suite 800, Washington, DC 20004 or Family Centers Inc., 48 Arch St., Greenwich, CT 06830. The family requests all such donations be acknowledged to Massimo Iori at 3 Intrieri Lane, Greenwich CT 06830.
Although I never had the opportunity to meet Iori, I've heard his name mentioned all the time at Francois' shop. Whenever we'd get into a bind, or had a mechanical issue that stumped us, Francois would always say, "Iori would know!" Even in his later years, Iori was happy to take Francois' calls or visits and offer his assistance and knowledge.
Francois explained that Iori got his start at the Factory in the early 60s running the company dynamometer for race engine testing. His expertise brought him to the United States to work for Luigi Chinetti and the North American Race Team as Chief Mechanic where he and Francois met and became lifelong friends. It's hard to believe, but Francois was the apprentice to Iori, and told me he would not have gotten where he is today without the help of Iori. I may not have met the legend, but in some ways I feel knew him from the lessons passed on through Francois.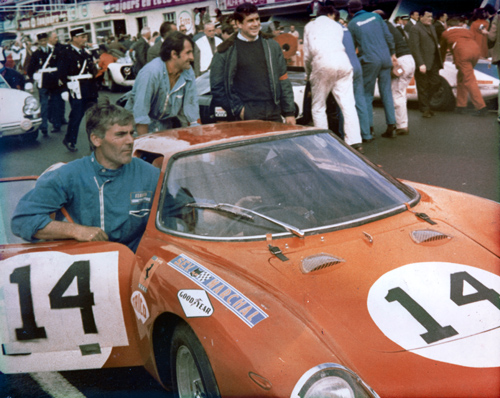 Here is a photograph on Iori and Francois in the pits at LeMans. The car is a 250LM and it's the late 60s. Iori is steering the car and Francois is pushing the car from behind. Francois asked me to share with the world in tribute to the man and mentor he will miss dearly.
Previous Restoration Day
Next Restoration Day
Home page