Seattle Area Car Collections
10/21/10
Seattle Area Car Collections
A friend and I met Kerry Chesbro and his wife at their house for dinner. If you know my website, then you must know Kerry's site just as well. I have not seen Kerry for a couple of years, but we are always within e-mail contact. It was nice to see him in the flesh again, and see what he's been up to. Here's a video I shot while I was visiting.
I met fellow Ferrari owner Mark Travers and had breakfast at the Athenian in Pike Place Market. This restaurant is famous for its movie roll in "Sleepless in Seattle," but I liked it for its views of Elliot Bay and the Olympia Mountains. While drinking a cup of coffee from the original "Starbucks," we got a call from Dean Trenery, a local car collector. Mark made arrangements to see Dean's collection of cars, and I was happy to go!

Dean described himself as a "Ford Guy" also with an interest in 40-50 race boats, but his collection showed a much wider range than just cars and boats. An underlying theme to Dean's aesthetic was an attraction to the "Art Deco" movement and the society in which embraced it. His cars were all displayed not only in perfect condition, but also "propped" with the driver's period sunglasses, hat, and cigarette case!

There were plenty of power boats with significant race histories tracking the evolution of boat designs and outboard engine designs.

It was nice to see the evolution of construction and hull design laid out from one boat to the next.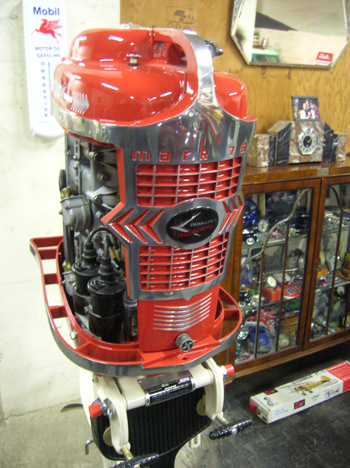 Dean's tour included a very knowledgeable narration of each boat, engine, and car, complete with race wins, history, and significance. There was no doubt, Dean knew his stuff!

Each area revealed another surprise, and these outboards were no different. These two motors were manufactured by Chris Craft for a very short time before a lawsuit ended production. Having both in a collection is pretty desirable, and a fitting place in Dean's collection.
I want to thank Dean for his time and educational tour of his collection. I wish I had more time to spend touring the rest of the collection. I didn't even get to the motorcycles! What a nice morning in Seattle! Thanks Dean!
Reminder: If you're looking for a Vintage Ferrari, or have a Vintage Ferrari for sale, please let me know. I would be happy to help you in any way that I can. I am not a broker, but occasionally hear of a good car for sale and can get them to the end user!
Previous Restoration Day
Next Restoration Day
Home page