2010 Pledge Drive
12/1/10
2010 Pledge Drive
It's that time of year again when I ask you to consider a pledge to support this website. I do this pledge drive only for the month of December, and your donations help keep the operation, maintenance, and entertainment going on this site. My role in the Vintage Ferrari community continues to change, but my primary focus is on this website and the enjoyment I get from bringing it to everyone around the world. Your pledge shows your support in this endeavor.
With over eleven years of exisitance, this website hosts a ton of information and is a nice place to visit on a daily basis. I serve over 1000 individual visitors a day, tranfering thousands of files in that time. There are almost 3 gigabites of data that makes up this website, and some of that belongs to the users that post pictures to the Vintage Ferrari Forum. If you visit this site, please consider the value I offer and what it is worth to you.
This pledge drive also gives me a chance to reflect on the past year, and what we've experienced together. Here are some of the highlights (click on the pictures for more of the story):

2010 began with a road trip to Florida from as far away as Quebec City in the Canadian Provence of Quebec. I joined Tom Kizer in NY, and hooked up with Mark Dempsey in Maryland. All three Vintage Ferraris headed south for Cavallino 2010 in Palm Beach Florida.

I made it to Florida, but unfortunately had to truck the car home due to failed brakes!

In March when I finally got around to figuring out the problem, I found the mysterious Brake Equalizer to be at fault. This began the long (still unfinished) quest for seals and a rebuild process!

Early Spring had me making a house call on a local 330 America. Michael and I sorted his car out and readied her for driving season!

As I sorted out the brake equalizer, I got help from a fellow GTE owner in Denmark to machine a new piston. One piece to the puzzle is complete!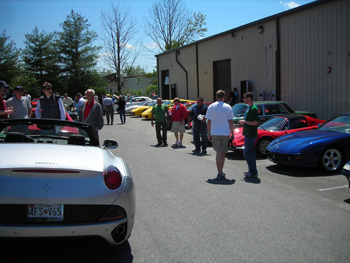 May brought the third annual Radcliffe/Tomyang.net car show in Maryland. This show gets bigger every year, and this year was met with beautiful weather and maximum capacity.
May also brought the sad news of the passing of Gerald Roush. I spoke to his wife Carol, and she told me how much he loved the Vintage Ferrari community, and how running Ferrari Market Letter was so much fun. We'll miss Gerald very much.
I headed out to Southern California in July to co-host a West Coast Party with Tom Wilson of Ferrari250GTE.com and Zac Dugger of DGR Performance. It was a lot of fun to check out the SoCal car scene and visit some interesting shops while I was out there!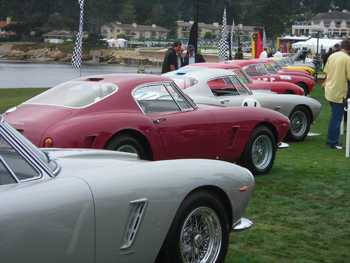 August was Monterey, and all the insanity only a Car Lover could love.

September brought a PF Coupe and a GTC to Francois' shop for us to service. The PF Coupe is familiar to tomyang.netters but the GTC is a new face. Both owners are watching their cars make steady forward progress towards getting sorted on this website.

The Fall brought the Ferrari Club of America National Event to New Jersey, so I drove down to see all the cars and friends. Even with the rain, we manged to have a great time in a villa several of us rented.

Another lifetime opportunity presented itself in September when I got a chance to ride in a GTO on a race track. Pretty cool!

Work continued on the GTC, and PF coupe, as we geared up for Winter in the Northeast. With any luck, we'll have the GTC on the ground for testing and tuning before the snow flies in December!
Whenever I sum up the year, I'm reminded how busy a year can be. It's always great to share all things Ferrari with you on this website, and in return, there is always something interesting being discussed or shared on the Vintage Ferrari Forum with some very knowledgeable restorers, owners, and mechanics. I work very hard on making this website useful to enthusiasts, owners, and tradespeople, and your continued support shows you like it as well.
I am always pushing for more features on this website, and you can look forward to seeing more in 2011. I will try to offer more videos on this website, as you can see from my You-Tube Channel, and it will only enhance the Vintage Ferrari content on this site! Thanks for your support and pledges, and let's look forward to another year!
I accept PayPal:

If you have trouble with the pay pal donate button, you can log into Pay Pal directly, and send money to my account, tom@tomyang.net ,
or checks can be made payable and sent to:
Tomyang.net LLC
P.O. Box 36
Hollowville, NY 12530
Previous Restoration Day
Next Restoration Day
Home page