1747
1/13/11
1747: PF Coupe Carpets
Quid, our upholsterer, finished installing the carpets inside the PF Coupe last week. We returned the carpet color back to the orignal light grey and it looks great in contrast to the blue interior which is still the original leather.

With the carpets installed, it was my job to put the seats back in along with the seat belts, but it's never easy! New insulation and padding was added to the bottom of the new carpets, so the height of the floor is a little higher than before, changing the height of the seats and seat tracks. The extra 1/2 inch required new bolts for the seats and the seat belt anchors. Hardened bolts were needed, so a special trip to a fastener shop was the needed to get the right hardware, but we eventually got everything we needed to get the job done.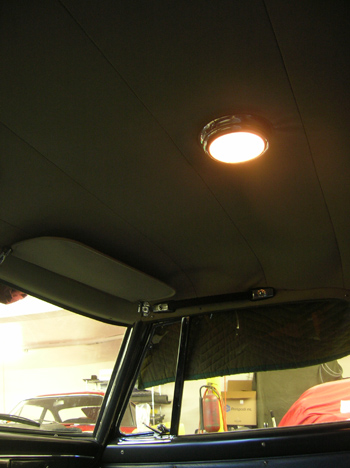 I took this picture of the working dome light for both the previous and current owner. I am honored that Ed, the previous owner of this car for 30 years follows the progress of his old girlfriend on this website. He enjoys seeing the progress David, the current owner, and I make on fixing the little things that keeps 1747 going.
Ed can probably tell me exactly when the wiring on this dome light burned out, but here's photographic proof it's working again!

With the seats about to go back into the car, I took the opportunity to moisturize the seats again. The leather is 50 years old, and we're trying our best to save it for as long as we possibly can.

The seat backs are vinyl, and have come apart at the seams because the glue has failed over the years. I cleaned up the old glue and tried reattaching the pieces with new glue.

I love the look of this interior with the orignal seats and headliner. Each original piece tells a story about the history of this car, and we're lucky to have such a nice example to save. I hope she does well at the Ferrari Club National Event in June!
Reminder: If you have a Ferrari related project, car, or idea you'd like to explore, I'd love to talk to you. I can also help if you're thinking of buying or selling. This website represents what I love to do, share, and how I make a living, so if you'd like to do something together, let me know. It all begins with an e-mail!
Save the Date! Fourth Annual Radcliffe/Tomyang.net Spring Car Show on Saturday May 7th 2011. Richard Garre and I are looking forward to planning this show and more details will follow here and the Radcliffe Motorcar Company Website, but if you want to mark you calendar, the date to remember is May 7th, 2011!

Previous Restoration Day
Next Restoration Day
Home page