Cavallino 2011
1/22/11
Cavallino 2011: Show Day
I arrived early to watch the cars load onto the show field. It's one of three times during the whole day you get to hear these cars run, so it was worth getting up early and heading to the Palm Beach.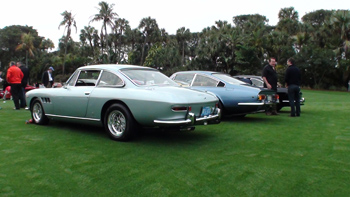 The glory of showing a 2+2 Ferrari like the GTE close to the top lawns of Cavallino has past. This year, the 2+2 Ferraris were put way back down the lawn, but it is a place I enjoy being. I met some new owners and their cars, and shared some good stories.

This Series II 330 looked very nice.

It's dash was refinished in what I believe was "bird's eye maple." Very nice, but I don't believe was stock!

A nice 365GT 2+2 was parked among the 2+2s.

This Series II 330GT was freshly out of a restoration shop in NY, and the owner was receiving the car in Florida for the first time.

The "Drama" on this car was the outside filler cap. The owner and shop guy fielded questions all day from curious onlookers who were familiar with 330s. I looked at the welds and the finishing of the filler, and could not come to a conclusion. Maybe Kerry can shed some light on 8101 and whether there are clues in the 330 Registry about this filler neck!

Another new owner to this GTE was David with this wonderfully painted red 250. It has the same color combination as my car and looked great on the show field.
I was invited to dinner at Testa's near the Breakers instead of the Cavallino Awards Banquet. My friend Clem Simmons tries to organize a dinner every year during the Cavallino weekend for about 20 people. Clem's "A" list attendees include some long time judges, owners and restorers. Conversation is always lively, and the knowledge base on Vintage Ferraris is staggering. I'm lucky to be included. One member of this group, however, was sorely missed. Gerald Roush was a regular at this dinner, and it's sad to see his empty seat.
Reminder: If you have a Ferrari related project, car, or idea you'd like to explore, I'd love to talk to you. I can also help if you're thinking of buying or selling. This website represents what I love to do, share, and how I make a living, so if you'd like to do something together, let me know. It all begins with an e-mail!
Save the Date! Fourth Annual Radcliffe/Tomyang.net Spring Car Show on Saturday May 7th 2011. Richard Garre and I are looking forward to planning this show and more details will follow here and the Radcliffe Motorcar Company Website, but if you want to mark you calendar, the date to remember is May 7th, 2011!

Previous Restoration Day
Next Restoration Day
Home page