A Series I 330GT 2+2
2/9/11
A Series I 330GT 2+2
I got to work on a Series I 330GT 2+2 this week. The owner recently purchased the car and asked Francois and I to sort it out.

The car came from California and has seen some restoration in its past.

The interor looks like it's been redone, and the weather stripping is fresh.
We took the Ferrari out for a test drive to assess the condition of the car. Francois and I took turns driving and compared what each of us felt with the car and what needed to be done. Overall, the car felt very solid, and I think it was bought well. There were no squeaks or rattles. The transmission shifted well, the brakes worked well, and the steering felt fine. The engine started and ran well, but needed some tuning. There was an annoying pop and spit from the carbs that we needed to invesitgate. The engine sounded strong, but didn't seem to pull as strongly as it could. The compression numbers seemed fine, so we think it's in the tuning. 4 liter V-12 Ferrari engines have a lot of torque, and sometimes owners not familar with how much power these engines can deliver can live for years with a de-tuned car, never missing the power. We both found this engine not pulling hard as she should at the higher rpm ranges, so when we got back to the shop we began the hunt for more power!

Since this was a new car to us and the owner, we pulled the valve covers to inspect the valve train and do a valve adjustment. Inspecting this critical area of the engine would help establish a base line on this engine and would give us clues to what could be wearing abnormally.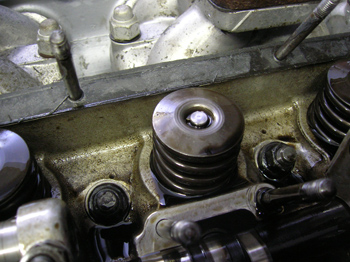 All the signs point to some kind of engine rebuild in this car's history. The use of sealants in certain areas would not have been possible without disassembling the engine, so someone has been inside this motor before. The valve stems looked to be in good shape, but not the same could be said for several of the valve lash adjusters.

These adjusters were doing their job by sacrificing themselves over wearing out the top of the valve stem, but I needed to replace half of them because they showed signs of pitting.
Reminder: If you have a Ferrari related project, car, or idea you'd like to explore, I'd love to talk to you. I can also help if you're thinking of buying or selling. This website represents what I love to do, share, and how I make a living, so if you'd like to do something together, let me know. It all begins with an e-mail!
Save the Date! Fourth Annual Radcliffe/Tomyang.net Spring Car Show on Saturday May 7th 2011. Richard Garre and I are looking forward to planning this show and more details will follow here and the Radcliffe Motorcar Company Website, but if you want to mark you calendar, the date to remember is May 7th, 2011!

Previous Restoration Day
Next Restoration Day
Home page