Neat Ferrari Stuff
2/10/11
Neat Ferrari Stuff
I finally got a chance to post another video I recorded with Art Taxman when I spent an afternoon with him in Florida.
He tells of how he got into Ferrari, and some of the cars he owns. It made me envious to be able to drive his Ferraris in the middle of winter in Florida while my car sits dormant in New York!

One of the fringe benefits of working at Francois's shop is the exposure to some truly rare machinery.

Francois was asked to fix an engine that developed a coolant leak that was mixing with the engine oil in this rare Ferrari race engine. It turns out the previous engine shop used a gasket that failed, so the engine had to come apart to change the gasket.

This was the first time I got to look closely at a early Lampredi designed V-12 engine, so I spent a lot of time inspecting the parts. These engines have their cylinders individually screwed into the heads allowing better sealing of the combustion area.

I marvelled at the plumbing on this engine. Redundancy was the norm with this engine, and was a key to Ferrari winning races back in the 50s and 60s.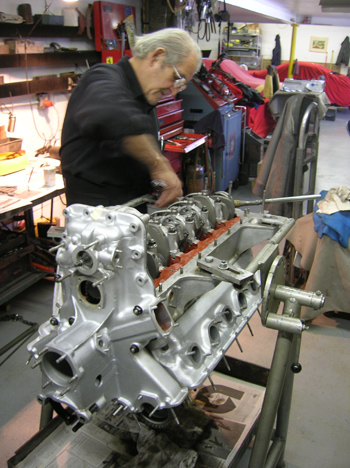 Francois took the time to show me all the trick pieces to this engine in the last several weeks this engine has been at the shop, and it's been a real education. I can sometime see these engines installed in beautiful Ferraris, but this was a treat to see this engine apart for the true gear head!

There's tons of evidence of this engine's past. And the scars of battle are evident in the repairs done to the castings. Each one of these repairs speaks of a particular race or DNF in the history books. Is it silly to be in awe of a pile of aluminum and magnesium?
Reminder: If you have a Ferrari related project, car, or idea you'd like to explore, I'd love to talk to you. I can also help if you're thinking of buying or selling. This website represents what I love to do, share, and how I make a living, so if you'd like to do something together, let me know. It all begins with an e-mail!
Save the Date! Fourth Annual Radcliffe/Tomyang.net Spring Car Show on Saturday May 7th 2011. Richard Garre and I are looking forward to planning this show and more details will follow here and the Radcliffe Motorcar Company Website, but if you want to mark you calendar, the date to remember is May 7th, 2011!

Previous Restoration Day
Next Restoration Day
Home page