Finishing both 330 and Daytona
3/6/11
Finishing both 330 and Daytona
Work on the 330 GT 2+2 came to a screeching halt when the wrong seal came in the mail the other day. I ordered a 42 ID X 72 OD X 8mm thick seal and a 48 mm ID seal arrived. From the time it took to check the order and get a new one sent out, it took a week!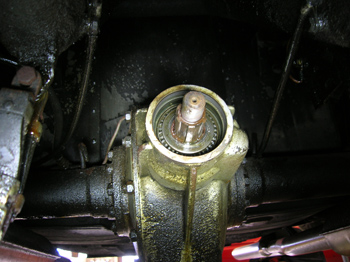 The day after I got the correct seal, I got back to work on getting the pinion seal installed.

After the seal was installed and the driveshaft attached, I cleaned as much of the grease and gunk that accumulated on the rear of the car. I still needed to install safety wire on the driveshaft nuts, but the work was basically done.

While I worked on the 330GT, Francois worked on fixing the hole in the Daytona's exhaust system. He had some mandrel bent tubing at the shop that matched perfectly with the rotted piece.

This kind of hole was probably the direct result of water collecting in a low spot in the pipe. The rest of the pipe was fine, but we could see evidence of the metal thinning and rotting at its lowest point.

It was great improvement over what we found a week ago!

I'm making good progress assembling the Daytona engine after the valve adjustment. It's the kind of work I enjoy most where all the little bits and pieces come together to make for a beautiful engine. With 6 carburetors, and four cams, you can imagine how many nuts, washers, clips, screws and cotter pins there are holding everything together, but when it done right, it's pretty satisfying!
Reminder: If you have a Ferrari related project, car, or idea you'd like to explore, I'd love to talk to you. I can also help if you're thinking of buying or selling. This website represents what I love to do, share, and how I make a living, so if you'd like to do something together, let me know. It all begins with an e-mail!
Save the Date! Fourth Annual Radcliffe/Tomyang.net Spring Car Show on Saturday May 7th 2011. Richard Garre and I are looking forward to planning this show and more details will follow here and the Radcliffe Motorcar Company Website, but if you want to mark you calendar, the date to remember is May 7th, 2011!

Previous Restoration Day
Next Restoration Day
Home page