Decals, Stickers, and More Details
3/20/11
Decals, Stickers, and More Details
1747 is headed to Savannah in June to attend the Ferrari Club of America National Event, so a lot of little details needed to be fixed to do well if we plan on getting this car judged. I set to work on the PF Coupe fixing the little details to make this car "perfect."

The numbers on the distributor caps were coming off, so they had to be put back on. Kerry Chesbro has a digital file you can download from his website that you can print on your computer to make these numbers, but Parker Hall also has these numbers preprinted on self adhesive stickers ready to apply. When I was working on my personal car, I printed my own, stuck clear plastic film on the numbers, cut them out with a special tool I made, and applied them to my distributors, but I have found it's cheaper to buy the ready made stickers from Parker if someone is paying for my time!
If you don't know who Parker Hall is, you have not detailed a Vintage Ferrari! He publishes a beautiful catalog with pictures of original cars with original details, and makes up for not having a website!
Parker Hall
Kilimanjaro Designs
940 Warrenton Rd.
Vicksburg, MS 39180
Ph 601-638-7856
Kilidesign@hotmail.com

1747 has a new set of Borranis mounted on the car, but they had the later Borrani stickers on the wheels. Parker has the period correct labels made in water transfer decals. Both labels are pretty delicate, and care has to be taken when installing them on the wheels. The area these stickers mount to the wheel has a compound curve, so getting the decal to lay flat is near impossible. Order spares, and prepare to apply new ones on the show field when one falls apart!
Here's what Parker had to say about the change in the Borrani Logo:
The original company was a licensee of Rudge Whitworth, the English company. During the war years Musollini encouraged them to use the Italian names and to do away with the foreign licensee arrangements, so you will see a mix of Carlo Borrani stamping and stickers and Rudge Whitworth until the early 1950's. In the early 1950's Carlo Borrani stamping was used, and I guess the Carlo Borrani water transfers were also used but it was not unusual to see knock-offs with Rudge-Whitworth stamping as late as the early 1950's (52 or 53). The theory being that someone else cast and machined the knock-offs and they would continue to use up the old stock.

In "1961" Carlo Borrani sold the company and the stamping was changed to "Ruote Borrani". Pronounced "Ru oat a". The stamping and decals were changed at that time, finishing by 1962. Again because of the inventory lag it is not unusual to see cars with Ruote Borrani stamping and decals but with Carlo Borrani knock-offs as late as 1963. The latest photo that I have seen, with the Carlo Borrani knock-offs, is Lusso #4409 on pg 71 of Kirk Miska's book. The earliest photo of a car with the Ruote Borrani knock-offs is #5063, pg 61 of the same book. This documentation is based on the assumption that a change from Carlo to Ruote happened at the same time as the change from the domed center to the concave center, about April of 1963.
Here's the new sticker mounted to the wheel.

Another neat detail Parker offers in his catalog are these reproduction valve stem covers. It's a set of three pieces consisting of a stem cover, a knurled keeper, and a valve stem cap.

Back on the heater hoses there were some Pirelli stickers that were occasionally found on the hoses. Now this is a topic that I am sensitive about. As Francois explained when he apprenticed at the Ferrari Factory in the early 60s, heater hose was installed on Ferraris from large rolls of heater hose delivered from Pirelli. A yellow Pirelli sticker was vulcanized to the rubber hose once in a while. Meters of hose would be unrolled before another one would be seen. When I attend Ferrari shows, I often see Vintage Ferraris "over stickered" with these little yellow stickers, often times lined up perfectly on top of one another.
I had this discussion when I had my car judged several years ago, when I intentionally omitted this sticker to prove a point. I told the judge (whom is a well known restorer) my intentions, and he said "I guess it's better to have it than not!" This is where I began questioning the meaning of a restored car!
I discussed this issue with David the owner of 1747, and we decided to throw a couple of stickers on this car for good measure, but certainly not lined up perfectly. The end result is we want to do well in judging, and if the current judges want to see these stickers, we'll put them on. Just don't ever expect to see cars that I do with perfectly lined up stickers!

Parker was nice enough to send detailed instructions on how to get these rubber stickers attached to the hose. He suggested using "Crazy Glue," or Ethyl cyanoacrylate glue and clamp the sticker to the hose with something like a beer can and some hose clamps. I decided to try some aluminum foil and some butcher string. Wrapping the string tightly around the hose allowed me to get the sticker to fit closer to the contour of the hose, and I think it turned out well.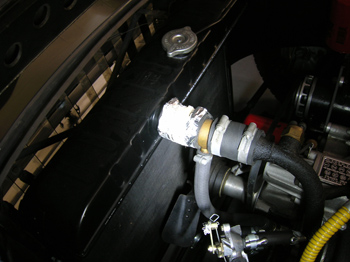 I did the same technique for the radiator hose.

The stickers look good, and dress up the engine compartment, but I refrained from more than two stickers on the car…and that's all I'm going to say about that!

I refinished the steering wheel on this car a couple years ago, but I found new cracks forming in new places on the wheel. Getting all the cracks to stop was getting beyond my abilities so I decided to send the wheel to someone with a lot more experience with woodworking.
Peter Gluklick was recommended to me by Kerry Chesbro, and after seeing some of his work, I decided to send the wheel to http://pgluckwoodworks.com/ .

Here's what Peter had to say about the work:
This one was well on it's way to self destructing. The wood is extremely dry. Often the dents whether through usage or created in the process of coaxing damaged areas open can be manipulated back to near their original shape. In this case there was a tendency for the wood to break apart in chards when prying. Once I got to poking and prying there were a great many areas requiring attention. For instance the inner lamination on the back side with little coaxing opened about 2/3 of the circumference, the joint just outbound of the black stripe on the front was loose about 1/4, this in addition to the breakage from torquing some of which was obvious and some which appeared as the poking continued. The areas were opened and cleaned including the aluminum rim and re-adhered. I did what I could to moisturize and invigorate the wood itself but at some point it's a mother nature thing.


Finishing was approached carefully so as to maintain as much of the patina as possible attempting achieve an end product that appeared well used and maintained and not new or restored. The finish is a urethane varnish which will yellow a small amount over the next couple of years. The curing process will continue for another couple of months so application of a wax to the wood should be held off for that time. At that a good paste wax every year or two may prove beneficial in the long run.

Peter

The wheel looks great back in it's home, and we're getting closer to seeing this car head home!
Reminder: If you have a Ferrari related project, car, or idea you'd like to explore, I'd love to talk to you. I can also help if you're thinking of buying or selling. This website represents what I love to do, share, and how I make a living, so if you'd like to do something together, let me know. It all begins with an e-mail!
Save the Date! Fourth Annual Radcliffe/Tomyang.net Spring Car Show on Saturday May 7th 2011. Richard Garre and I are looking forward to planning this show and more details will follow here and the Radcliffe Motorcar Company Website, but if you want to mark you calendar, the date to remember is May 7th, 2011!

Previous Restoration Day
Next Restoration Day
Home page