She's Alive! She's Alive!
3/25/11
She's Alive! She's Alive!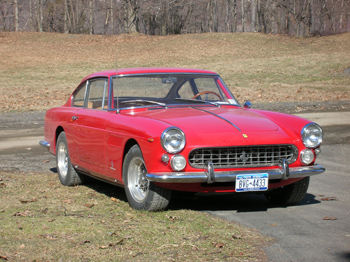 After 14 months I finally got my 330 America back on the road! It all started with a drive down to Florida in January of 2010, when I had a brake seize up, setting the rubber flex hose on fire in my sister's house in Savannah! I managed to limp the car to Palm Beach and display my car with other 2+2 Ferraris at the Breakers, but my car was hurting.
I towed the car back to NY and began the process of finding out what went wrong, and how to fix my problem. Two issues arose on the trip, one being the brakes and the second being the mechanical fuel pump. Each problem took me down different paths towards a fix, and I learned a lot. I've talked about both repairs in previous posts, but I'm happy to say both issues seem to be solved.
The car idles perfectly fine with just the mechanical fuel pump offering the pressure to the fuel rail. I carefully measured how much travel the fuel pump needed, and inspected how much movement was in the pushrod. By simply sanding down the phenolic spacer down about 1.2 mm, I gained enough travel in the pump lever to offer good pressure.
The brakes were a little more involved. Corrosion in the brake equalizer/proportioning valve mounted under the radiator caused the unit to stick, and lock the front brakes. When I disassembled the unit I found a lot of rust, bad seals, and a corroded piston. Seals had to be made from scratch, along with a new piston out of stainless steel, but after months of research and development, I finally had a chance to test the car, and everything seems to be working again. After I get the Ferrari inspected for public road use, I plan on testing some more, but a major milestone was passed today!
Reminder: If you have a Ferrari related project, car, or idea you'd like to explore, I'd love to talk to you. I can also help if you're thinking of buying or selling. This website represents what I love to do, share, and how I make a living, so if you'd like to do something together, let me know. It all begins with an e-mail!
Save the Date! Fourth Annual Radcliffe/Tomyang.net Spring Car Show on Saturday May 7th 2011. Richard Garre and I are looking forward to planning this show and more details will follow here and the Radcliffe Motorcar Company Website, but if you want to mark you calendar, the date to remember is May 7th, 2011!

Previous Restoration Day
Next Restoration Day
Home page