Looking at Details and Parts
4/2/11
2259: Looking at Details and Parts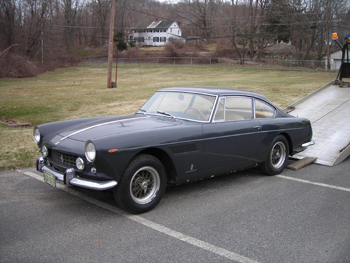 After unloading the car from the large enclosed transporter, we put the car on a rollback to get it to our shop. Maneuvering a 75 foot truck with a car that does not move under her own power is not an easy thing to do at the shop, so a roll back sure helps!

Everywhere I look on this car, I can see original details. The lead weights wrapped on the spokes on the wire wheels were used back in the early 60s, but I believe were replaced with clip on weights by the late 60s. I would love to hear from people who know more about these weights.

Last week I was talking about Pirelli hose stickers and how not all hoses may have had these stickers. Well I learned there's proof the 1 inch hose that goes between the cylinder heads on the front of the engine had one!

One of the large hoses coming off the radiator looks original with the Cheney clamp, but I can't see any evidence there was a sticker.

There's no way of proving this hose was original, since this car was in service until 1967, but it's still need to see these parts locked away in a time capsule.

Carlo sent some parts out over the years for rebuilding, and the booster was incorrectly plated with later yellow cadmium plating.

The consensus is the plating should be white cadmium plate, but there is a wide range of quality from different platers.

Another find is a trouble light I found in the trunk of the car which has generated a discussion about its origin in the Vintage Ferrari Forum. There is a small power outlet under the dash of my 330 America, and other GTEs that is too small for the standard 12 volt plug. Our cars already have a normal cigarette lighter with the 12 volt receptacle, so I've always wondered what this outlet was for. Well, this light fits in that outlet!

Here are the markings on the unit, and Tom Kizer found a patent on this item:
Patent No. 85985
Patented by Saulo Busilacchio of Castelfidardo on March 23, 1962 (No Ferrari Connection mentioned).
Description: Translated by internet translator and maybe improved by me.
Portable lamp in plastic for drivers in general, with swiveling reflector applied like a stud on the knob itself, which bears a magnet likely to create a perfect connection of the set in any metal part of the car and hook for a different temporary attachment location.
David, the owner of the PF Coupe came up this past weekend to drive his car and we parked it next to the GTE for a photo opportunity. The parallelisms are striking. Two cars, built roughly a year apart, same color, both spent most of their lives in the Pacific Northwest, both unrestored, and in largely original condition. Even Francois was excited to have both cars parked next to each other!
All neat stuff!
Reminder: If you have a Ferrari related project, car, or idea you'd like to explore, I'd love to talk to you. I can also help if you're thinking of buying or selling. This website represents what I love to do, share, and how I make a living, so if you'd like to do something together, let me know. It all begins with an e-mail!
Save the Date! Fourth Annual Radcliffe/Tomyang.net Spring Car Show on Saturday May 7th 2011. Richard Garre and I are looking forward to planning this show and more details will follow here and the Radcliffe Motorcar Company Website, but if you want to mark you calendar, the date to remember is May 7th, 2011!

Previous Restoration Day
Next Restoration Day
Home page