2259
4/22/11
2259: Trunk Details
The trunk area is very nicely preserved in this car, but the foam under the carpeting was crumbling away. Just to show how undisturbed everything was, the foam was sitting on top of the spare tire cover in one layer in same position when it was in one sheet. I vacuumed up all the foam before it had a chance to scatter all over the trunk.

A lot of eagle eyed GTE spotters saw the Series III tail lights mounted on this early Series I GTE, and I'll tell you the story the previous owner, shared with me. Carlo said the person he bought the car from in Italy bought this GTE directly from the Ferrari Factory, and took it back for regular service. On some of the visits back to the factory, they would sell him updates to the car that was being put on later models of the GTE. One of these updates was the Series III tail lights.
The bodywork between Series I and Series III cars are slightly different in the tail lights, so a filler piece was made to attach these lights to the car.

Behind the lights, you can see different holes possibly for the Series I taillights. I also found interesting the back up light plug was not connected.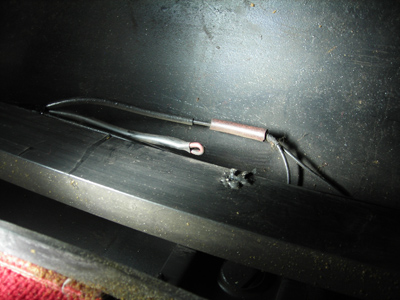 I went looking for the back up light wiring harness, and found it to be looped into itself down where a Series I car would have the single back up light under the bumper. Did European cars not have back up lights? I didn't see any evidence of a back up light on this car, but I'll need to look a little closer when I get a chance.

Another interesting detail is how the trunk hinge bolts were painted body color. This little detail shows the trunk hinges were mounted when Pininfarina painted the cars.
Reminder: If you have a Ferrari related project, car, or idea you'd like to explore, I'd love to talk to you. I can also help if you're thinking of buying or selling. This website represents what I love to do, share, and how I make a living, so if you'd like to do something together, let me know. It all begins with an e-mail!
Save the Date! Fourth Annual Radcliffe/Tomyang.net Spring Car Show on Saturday May 7th 2011. Richard Garre and I are looking forward to planning this show and more details will follow here and the Radcliffe Motorcar Company Website, but if you want to mark you calendar, the date to remember is May 7th, 2011!

Previous Restoration Day
Next Restoration Day
Home page