2259
4/28/11
2259: U-joints, Water Pumps, and Floor Pans
Work continued on the GTE project. I stripped the drive shaft u-joint to inspect all the needle bearings. They weren't rusty, but they the surfaces inside showed signs of seizing when this car was still driving. I'll see if I can get better pictures to show the problem and our solution in a later post.

The water pump was disassembled to inspect and measure replacement parts. Besides the oil and water seals I ordered a new set of bearings because the original ones felt a little rough in action. The face of the impeller was unmarked, so hopefully the seal will remain leak free when it goes back together!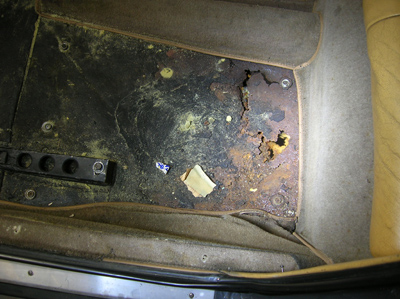 Another project area of the GTE was begun. The rear floor pans on this car had rusted through, and will need new repair panels. Ferraris of this vintage had sheet metal floors with fiberglass sandwiched between the layers. These pans were crudely gas welded in place and lots of gaps allowed road water to get inside. The fiberglass layer trapped water and moisture and would often rot the floors out in these cars. On closer inspection of the floors on this car, all of it looks solid except for both rear seat foot wells. My theory is water splashing in between the layers settled to the lowest point which was the rear foot wells, eventually rusting completely through. Hopefully these two pans will be the only sections we'll have to repair.

For the Ferrari Telaio spotters, the Pininfarina build number on this car is "737."
Reminder: If you have a Ferrari related project, car, or idea you'd like to explore, I'd love to talk to you. I can also help if you're thinking of buying or selling. This website represents what I love to do, share, and how I make a living, so if you'd like to do something together, let me know. It all begins with an e-mail!
Save the Date! Fourth Annual Radcliffe/Tomyang.net Spring Car Show on Saturday May 7th 2011. Richard Garre and I are looking forward to planning this show and more details will follow here and the Radcliffe Motorcar Company Website, but if you want to mark you calendar, the date to remember is May 7th, 2011!

Previous Restoration Day
Next Restoration Day
Home page