Two Open Houses in One Day!
5/3/11
Two Open Houses in One Day
Classic Coach in Elizabeth New Jersey had an open house last weekend, and I drove down to attend. Onofrio Triarsi has had this shop for many years, and is an official dealer for Ferrari.

There was a strong turn out of Modern and Vintage Ferraris, and there was a lot to see.

In their body shop was a 275GTB undergoing major body rebuilding.

Much of the nose was being reconstructed after the original nose showed too much damage to save.

It's been almost 10 years since my last visit to this shop, and I was surprised to find some of the cars stored upstairs still in their same parking places. The stories these cars could tell!

Classic Coach is heavily involved with the Ferrari Challenge Series, and as you can see from the repair panels, they are also an official repair facility! I think this stack of Challenge bumpers represents over a million dollars of crash damage. What's funny is these bumpers are saved because I'm sure when new bumpers are no longer made by the factory, these broken pieces will be recycled and repaired to install on future classics!

Behind the building was what I really wanted to see. This is where I found the neatest stuff.

To the untrained eye, this is simply a pile of rusty steel, but on closer inspection, I can see a Vintage Ferrari frame section.

It's a front cross member with attached front suspension. I figured it's had either a late 330 or 365 engine due to the engine mounts still on the frame rail. Even these rusty pieces are worth something, like the control arms, or spring buckets.

Anybody need Espada parts?

Peeking out from behind a forklift I saw the familiar look of a four headlight 330.

Walking around the back, I found this rusty hulk.

A lot of the $$$ pieces were taken off of this car, but there were still some usable pieces.

This 246GT was pretty smashed, but someday, if this car has a clean title, it'll be worth restoring.
I want to than Mr. Triarsi and his shop for having this open house, and spending the time to show us what they do.

I met Sam Smith, a long time Ferrari Club Judge and Vintage Alfa Racer at Classic Coach. We bummed around together looking at the cars, and sharing Ferrari knowledge. Sam is a wealth of information on the history of many cars and had many personal experiences since the 70s driving, fixing, and even tracking Vintage Ferraris. As the day progressed, Sam told me he and his friend Les were headed to another "open house" hosted by a well known car collector, Oscar Davis, and wanted to know if I wanted to join them. It didn't take long for me to give them my answer as I jumped in the back of Les' car!

The Oscar Davis Collection was about a 10 minute drive from Classic Coach, and was a beautiful collection of European sports cars. Mr. Davis must have an affinity to Lancia B25 Spyders because I found four in row!

Another beautiful car was this 1952 Lancia B53 Gardinetta, an Italian Woody Station Wagon!

This Type 57C was stunning, and restored by Mr. Davis' personal mechanic.

I think I counted four Bugattis in the collection. All beautifully restored and ready to go!

I can't say enough about how mechanically beautiful these engines are.

To my surprise, I saw a GTE parked outside that belonged to someone that just arrived.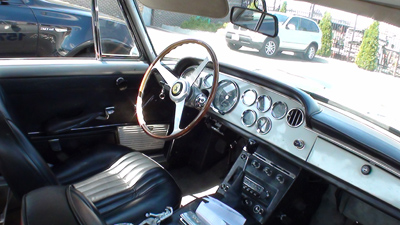 The car was in pretty good shape and had signs of regular use, and I couldn't wait to speak to its owner.

Sam saw the car as well, and knew immediately who owned the car, and went over to take a look under the hood.

The engine compartment was tidy, and very functional.

I finally got to meet the owner, and we talked at length about the car. Of the three Vintage Ferraris in his collection, this is a favorite!
Reminder: If you have a Ferrari related project, car, or idea you'd like to explore, I'd love to talk to you. I can also help if you're thinking of buying or selling. This website represents what I love to do, share, and how I make a living, so if you'd like to do something together, let me know. It all begins with an e-mail!
The Fourth Annual Radcliffe/Tomyang.net Spring Car Show on Saturday May 7th 2011 is less than a week away! Richard Garre and I are looking forward to seeing you at this show and more details can be found on the Radcliffe Motorcar Company Website. There are going to be tech demonstrations, food, and lots of cars to see. Space is limited, and we're usually booked by now, but if you waited until the last minute, call Richard to see if he can squeeze you in. See you there!
Previous Restoration Day
Next Restoration Day
Home page