Radcliffe/Tomyang.net 2011
5/7/11
Radcliffe/Tomyang.net 2011
Even though it rained overnight, the weather was forecast to be a nice day. Richard Garre's car was pulled out of the shop at about 6:30 am and placed in the her space waiting for others to arrive.

Even though we're into our fourth year of throwing this event, there is alway a little worry in our hearts that no one will show up, but by as early as 8 am, the spots started to fill quickly. This event has always attracted the most 330GT 2+2s than any other event in the country and this year we had Kerry Chesbro, the keeper of the 330 Registry, come all the way from Washington State to attend!

There was plenty of new cars to look at along with a good showing of modern Lamborghinis.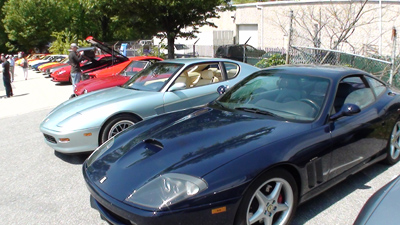 I love the mix of cars that this show attracts. We try our best to park similar cars together, but it's the juxtaposition of Maranellos with Pantaras that I love!

Alfas and Lancias have a strong showing as well, and it's great to see fellow club members chatting and enjoying the day together with all the other makes.


photo KVisser
This event has the feeling of a big party along with a medium sized car show. There is a very casual atmosphere when it comes to showing the cars because no one is competing for awards. I don't think I saw a single polishing cloth among all the cars parked outside!


photo KVisser
Our vendor list is growing, and we had to select which ones we wanted to display their wares. We follow a very simple formula: if we would buy the stuff for our car addiction, then they can sell it at this show!

We were honored this year to have the Admiral's 500 Mondial on display inside Richard's shop. This is a major Pebble Beach award winner, along with other prestigious awards too numerous to mention. Admiral Robert Phillips loves to talk about the life long relationship he's had with driving, racing, and restoring this little blue car. He's pictured here with Dick Merrit, another legend in the Vintage Ferrari community!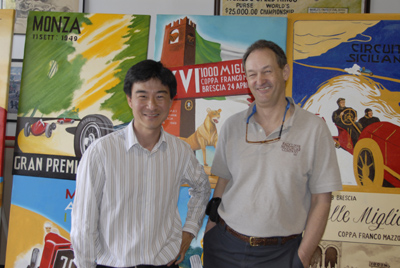 Photo DMiliano
Richard and I had our best year to date. The weather was spectacular, the attendance was high, and the cars were great! I am so proud that the word is spreading that this is a "must see" event! See you all next year!
Reminder: If you have a Ferrari related project, car, or idea you'd like to explore, I'd love to talk to you. I can also help if you're thinking of buying or selling. This website represents what I love to do, share, and how I make a living, so if you'd like to do something together, let me know. It all begins with an e-mail!
Previous Restoration Day
Next Restoration Day
Home page