Saratoga Auto Museum Spring Invitational
5/14/11
Saratoga Auto Museum Spring Invitational
I was drove my car up to Saratoga Springs to join the Saratoga Auto Museum for their Spring Invitational Show. The weekend began with a Friday tour with a visit to Jim Taylor's collection and a drive up to Lake George, about 50 miles away. As we met in front of the Museum, my empty passenger seat was quickly filled by Tom Coady. As we were introduced, I soon realized I met Tom and his family in Wisconsin at the FCA National meet in 2009. Tom bought his son Todd a slightly used 250GTE in the mid 60s when his son was 15. The car is still with the family, so having Mr. Coady for a navigator was fitting!
The 330 America was performing well, and I was happy the newly rebuilt brake equalizer was working flawlessly. The Ferrari needed this tour to stretch her legs and do as Enzo Ferrari intended. It was great to have someone familiar with old Ferraris as co-pilot, understanding all the quirks these cars can have. We cheered when the windshield wipers came to life with a turn of the knob during a brief shower, both knowing the tenuous nature of the Lucas motor. The same exaltation was given when the wiper managed to stop when the switch was turned off!

Our first stop was to see Jim Taylor's vast car collection located about 20 minutes from the Museum.

Although our time was limited because of a lunch waiting for us at Lake George, Jim did his best to give us a thorough tour of his collection. He depth of knowledge and experiences with each car was extraordinary.

The groupings of similar cars was very thoughtful, and each example helped fill out the sub category of a particular model or Marque. Just the fact that most of these cars had current registrations and inspections was staggering!

Mr. Taylor also had a fantastic collection of memorabilia for particular cars that really made the displays that much more fantastic. I wish we had more time to listen to Jim happily describe each car. It was a wonderful tour. Thank you Jim for your hospitality and time.

The Saturday was the show day, so my daughter and I drove the 65 minute drive from my house to the park behind the museum. This was Ellie's first full blown car show, so it was test of a seven year old's endurance. I packed plenty of toys, books, and snacks to keep her busy, but I had no idea how it would go. I showed her how to wax and polish the Ferrari when I got home after the drive, so I was hoping she would be proud to show off her work.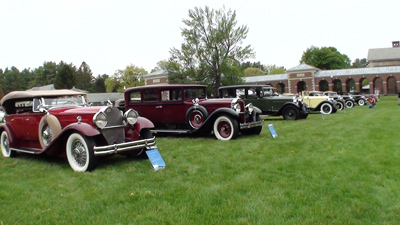 There was an amazing collection of prewar machinery at this show, and I was impressed with The Saratoga Auto Museum's ability to bring them in. Most of these cars are rarely seen except for the larger nationally recognized events. Good job!

I found Tom Coady, my previous day's rally passenger, displaying his Hemi powered Curtis. Although his car would have easily out powered my Ferrari, I could see how my enclosed 2+2 made for a much more civilized drive.
My daughter and I headed home in the afternoon with a good show day behind us. The 330 America performed flawlessly all weekend and seemed to get better with each passing mile. Ellie told me she had a fun time and would do it again. That was all a proud father needed to hear to make this weekend a great success!
Reminder: If you have a Ferrari related project, car, or idea you'd like to explore, I'd love to talk to you. I can also help if you're thinking of buying or selling. This website represents what I love to do, share, and how I make a living, so if you'd like to do something together, let me know. It all begins with an e-mail!
Previous Restoration Day
Next Restoration Day
Home page