PF Cabriolet and GTE Floors
5/19/11
PF Cabriolet and GTE Floors
Another car was brought in by a customer to ready for a season of top down motoring. This was a Series II Pininfarina Cabriolet, with disc brakes and tube shocks. Some prefer the lines of the Series I cars, despite less mechanical refinement, but either car is nice drop top Ferrari. This car was a nicely restored example, and drove just as well. The only complaint Francois and I noticed was the car wallowed in the turns. We found the rear shocks at too soft of a setting. With Koni shocks, this fix should be easily fixed.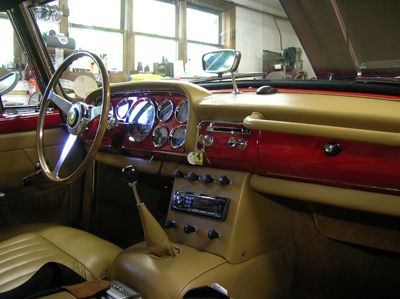 Although the California Spyder commands a lot more money than PF Cabs in the Ferrari market, I feel these are nicer cars. They have a lot more comfort, have adjustable seats, and even an overdrive transmission.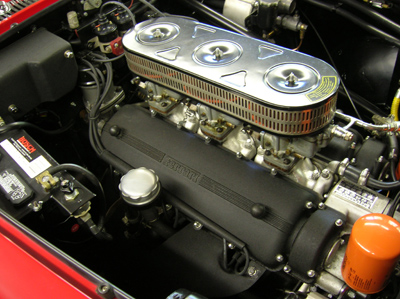 I'm going to do a valve adjustment, oil change, and general tuning, and this car will be ready to go for some warm weather cruising.

My friend Jay came over to the shop to work on the floorpan on 2259. He quickly cut away the bottom skin of the floor pan that was rusted through and removed the fiberglass between the layers of sheetmetal. Jay was more surprised than I about lack of paint or primer on the metal surfaces Pininfariana painted on these pieces. To quote Hillary Raab, "These cars were 'rust free' when new. The rust was free!"

As Jay dissected the rusted section of floor pan, we carefully examined how these floors were constructed and discussed how we were going to repair this section. The work was very crude, welded together with spot welds, and probably done with a torch. Besides the large amount of undercoating below, the floors had a bunch of gaps for water to get between the metal. There were certain parts of the floor pan that was impossible to get a torch in to weld the pieces together so they simply left them unattached!

Luckily, because of the low mileage on this car, only one small section on each side of the car was rotted out. The rest of the floor pans were solid. We'll make the proper repairs, improving on some of the welding, while still retaining the original look of the floor pan.

Jay took this section back to his shop to fabricate replacement pieces with identical stiffening beads and bends, and will be back next time to weld them into place.
Reminder: If you have a Ferrari related project, car, or idea you'd like to explore, I'd love to talk to you. I can also help if you're thinking of buying or selling. This website represents what I love to do, share, and how I make a living, so if you'd like to do something together, let me know. It all begins with an e-mail!
Previous Restoration Day
Next Restoration Day
Home page