GTC Test Drive, and PF Coupe Podcast
6/2/11
PF Coupe Podcast

photo D Miliano
My friend Dom Miliano stopped by with a friend at the shop today, and snapped a picture to prove I actually work on the cars!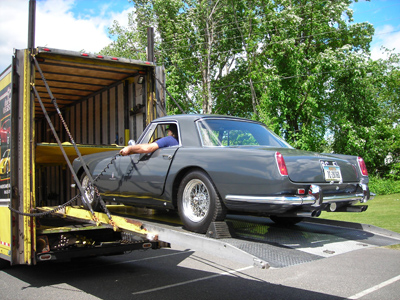 It was time to load David Eichenabum's 250GT Pininfarina Coupe on a truck headed for Savannah GA. She's going to the Ferrari Club National Meet which starts next week, and the owner will be taking her home from there. It's always a bittersweet moment when I load this car on a truck because I'll miss seeing her, but am happy the work is done and David gets her back for more fun. The good thing is I'll be joining this car next week in Savannah, so I'll have one more goodbye!
Speaking of the PF Coupe, the story behind this car I wrote will be published in FORZA in the August 2011 issue. Hopefully it will be on newsstands soon, but if you want a sneak preview you can listen to a podcast I recorded for the story. Click Here.
Reminder: If you have a Ferrari related project, car, or idea you'd like to explore, I'd love to talk to you. I can also help if you're thinking of buying or selling. This website represents what I love to do, share, and how I make a living, so if you'd like to do something together, let me know. It all begins with an e-mail!
Previous Restoration Day
Next Restoration Day
Home page