Lots of Ferrari work before heading to FCA National Event
6/7/11
Lots of Ferrari work before heading to FCA National Event
A very nice Series II 330GT 2+2 was delivered to the shop this week. I found this car for the new owner in Virginia, and it looks fantastic. Even though this car was painted over 10 years ago, it was holding up quite nicely. From what I heard, this car was so nice, the previous owner never felt comfortable driving the car, so barely 1000 miles was logged on the car over the last several years! Some oil leaks have cropped up along with some coolant leaks, but otherwise I checked it out to be a very nice car. After we sort out these issues, I hope the new owner feels more comfortable using this 330!

The engine compartment was well detailed and would do well at any local show.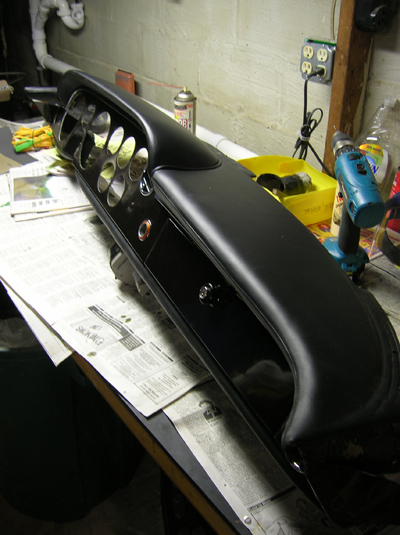 At my house I continued work on Michael Greenspan's 330 America. Since the dash had to come out to get to the heater core, Michael has decided to have the metal dash painted. The original lacquer paint is chipping off, and some of the aluminum is corroding under the paint. As much as we've been trying to save this car's originality, the passage of time and normal wear and tear warrants refurbishing. It's unavoidable. Since the dash was covered by Frank Segreto who has since passed away, it was nice to remember an old friend when I saw his work on the leather.

I got held up on removing the vents in the dash. I knew there was some kind of blind catch holding the circular vent in place, but I couldn't get it to release. After trying several times, I gave up and brought the dash to work to have Francois show me the trick.

By using a combination of tools and tricks, Francois was able to get the vent off. There's a piece spring steel wire that needs to be pushed aside a bit to release the groove that captures the vent.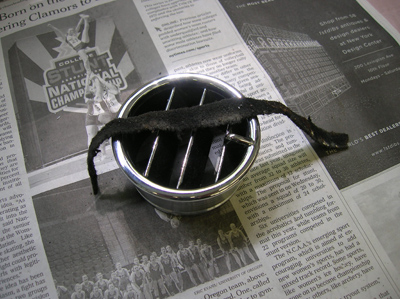 There's also a thin piece of felt glued to the circumference of the vent opening to eliminate rrattles. I'll reinstall new felts when everything goes back together.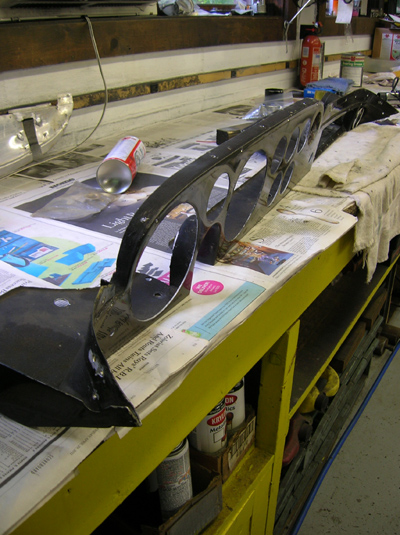 It may look simple, but there were a whole lot of parts attached to the dash that had to be removed for painting. Gauges, lights, lighters, vents, latches, and a glove box all needed to be removed and labeled before the dash can be stripped for painting.
I had to finish as much work as I could this week before I could head to Savannah Georgia for the Ferrari Club National Event at the end of the week. The concours is held on the 11th of June, and I promised David Eichenbaum I would join him to show his PF Coupe. The article in FORZA about his car was published this week, so the timing couldn't be better. I lived in Savannah over 20 years ago and my sister is still there, so I'm looking forward to a visit, even though it will be a short one. She has graciously offered her home to host a cocktail party the evening of June 11th after the Concours. If you're going to be in Savannah for the FCA event, and would like to join me for some drinks and southern hospitality, e-mail me, or find me at the Concours for more information.
See you in Savannah!
Reminder: If you have a Ferrari related project, car, or idea you'd like to explore, I'd love to talk to you. I can also help if you're thinking of buying or selling. This website represents what I love to do, share, and how I make a living, so if you'd like to do something together, let me know. It all begins with an e-mail!
Previous Restoration Day
Next Restoration Day
Home page