Chasing Down Another 330GT!
6/23/11
Chasing Down Another 330GT!
A friend that deals with Vintage Ferraris passed along a contact phone number of a 330GT that was being sold by the owner. The owner told me the car had not been on the road for many years, but the engine ran and moved under her own power. The price seemed fair so I made plans to drive 270 miles to see the car. After I got off the phone with the seller, I contacted the first person on my list of potential buyers and he told me he was definitely interested.

Three days later I was headed to the Maryland ocean beaches to find this old Ferrari. The plan was to do a compression check to see if the engine was decent. Unfortunately, even with good compression, this does not guarantee the engine wasn't a smoker, but at this price, we were more concerned with looking for a solid car worthy of some TLC. The buyer and I spoke extensively to narrow down what his expectations were in the past several weeks, so if this was the right car, we would both know immediately.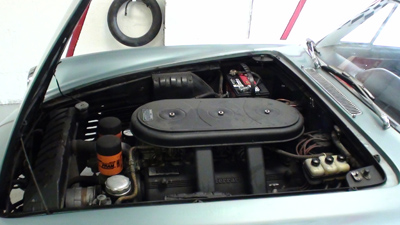 The compression on the engine was decent and there were no serious signs of trouble. That being said, this was still a Vintage Ferrari that had not seen a tune up in several years. I called the owner and described what I saw. The car was not rusty, the paint was pretty gone, but there were no signs of crash damage. The interior was very serviceable, and I could see this car being used while the owner decided how much of a mechanical restoration he wanted to do.

We even got there in time to have the partial tool kit still with the car!
As I spoke with the buyer I realized if we were going to buy this car we should go ahead and do it NOW! There was no sense in waiting for people to change their minds or have prices change. After several phone calls we had money on the way and a title in process for transfer. I arranged to have the car moved the next day to a secure location to await transport to the new owner, and all I had to do wait one day in Maryland. Luckily, I have a sister with a place just up the coast, so I crashed at her place for the night.

The next morning, money arrived along with a roll back to whisk the 330 away to begin the journey to her new home. We saved another car, and I'm excited to watch this car come back to life with a new owner!

As the car was being loaded onto the truck, I noticed this parking permit on the front bumper. I wonder if someone still at the Navel Base would perhaps remember an officer driving his Ferrari around the base? I'm sure there's a story behind it somewhere!
Reminder: If you have a Ferrari related project, car, or idea you'd like to explore, I'd love to talk to you. I can also help if you're thinking of buying or selling. This website represents what I love to do, share, and how I make a living, so if you'd like to do something together, let me know. It all begins with an e-mail!
Previous Restoration Day
Next Restoration Day
Home page