Two 330s at the Shop
6/27/11
Two 330s at the Shop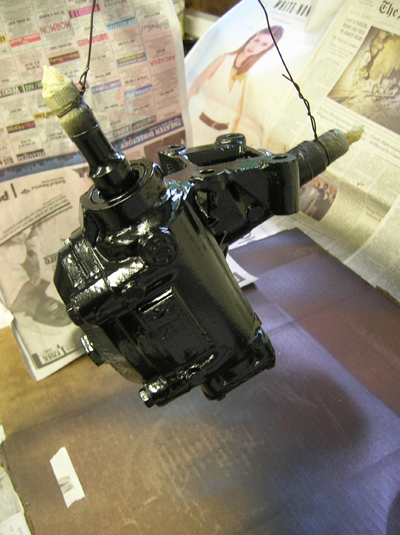 With the steering box out of the 8141 to install new seals, we went ahead and painted the unit. It's a lot easier to paint the steering box when it's out of the car than when it's installed!

I fabricated a new timing inspection cover for the 2+2, copying one we had at the shop. These often get misplaced, but I wanted to complete this little detail on the car.

The engine is back together, and all we have to do now is the test and tune. We will want to get everything good an hot to see if we still have any oil leaks. When we get some time, we'll take her out for a spin to test everything out.

I spent some time working on 2259 cleaning up the differential last week. I had a conversation with the owner about what I learned at the FCA National Event showing 1747 as a survivor car. Although this owner doesn't plan to show this car at a national level, he learned that there is a fine line between a survivor car and a crusty old car. The judges appreciate old unrestored cars, but don't like seeing all the preserved dirt and grime! This idea had me thinking about the direction of 2259, so we decided to clean the areas that are easily accessible while much of the car is apart. Since there is good access to the differential, I started with a thorough degreasing and scrub down.
Parts sent out for rebuilding are beginning to arrive at the shop, so I'm looking forward to getting back to work on 2259!

Fresh chrome plating arrived back at our shop for the 330GTS we had back a couple months ago so the car was brought in to have the parts reinstalled.

Even though it was just the turn signals and bumpers, there were a lot of little details I needed to attend to like painting the bumper brackets semi-gloss black. The lights needed to be assembled and all the threads checked and cleaned.

By the end of the day, everything was back in place and ready to go home!
Reminder: If you have a Ferrari related project, car, or idea you'd like to explore, I'd love to talk to you. I can also help if you're thinking of buying or selling. This website represents what I love to do, share, and how I make a living, so if you'd like to do something together, let me know. It all begins with an e-mail!
Previous Restoration Day
Next Restoration Day
Home page