St. Louis 330GT
7/12/11
St Louis 330GT
St Louis is pretty hot in July, but I found myself on a plane this week overlooking the Mississippi river system to inspect a Series I 330GT 2+2! It all started with a couple of e-mails between Kerry Chesbro and a potential buyer for a 330 listed on E-bay. Kerry and I played our usual game of spotting the details from the pictures posted on E-bay for a potential buyer. After a couple of conversations with the buyer, he asked if I was available to inspect the car.

Daniel Schmitt and Co. was selling the car, and has a large facility consisting of at least four buildings packed with all sorts of cars. From my conversations with the sales people, they move a lot of cars, many of which are marketed through E-bay.

The Series I 330GT was started and we took it out for a test drive. The brakes were pretty marginal, and it was made worse with three people in the car. I gave the techs a couple of ideas on how to make them work a little better, but I managed to drive the car enough to get a feel for it.

This was Richard, the buyer's first drive in a 330GT 2+2, so I tried my best to familiarize him with the controls and what to expect from this 45 year old car. The smile on his face meant I may have converted another future Vintage Ferrari owner!

We brought the car back to the shop and I began a compression test on the engine. Pre Purchase inspections are necessary for cars like Ferraris, or anything that puts a significant amount of money of the line, but many mechanics are refusing to do them these days. In a litigious world, if a mechanic makes a mistake or misses something in his inspection, there is always the risk of a lawsuit. There are also areas that are nearly impossible to inspect that can hide problems that can arise later in the ownership. No seller is going to allow a mechanic to disassemble their car to the extent necessary, and no buyer would pay for such an inspection. At some point, an inspection is a mild assurance of a good car. It's necessary to find glaring problems, but there is always risk involved in buying anything!

Before leaving St Louis, we stopped by Hyman Ltd. The are one of the biggest classic car dealers in the midwest, and I wanted to take a look. We were not diasppointed when we were greeted in their front lobby by this 1937 Delahaye.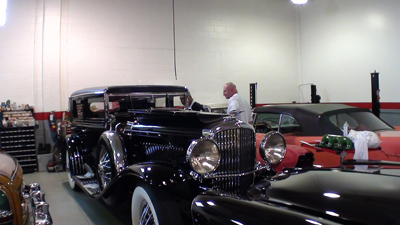 Mark Hyman quickly joined us on a tour of his 35,000 sq/ft facility. The founder of this company seemed to have a bigger than life attitude towards everything, and it certainly showed in his his personal collection of prewar cars and inventory of cars for sale.

The shop was capable of reparing everything, and cars spanning nine decades was present in various states of completion.
I spent less than 24 hours in Misouri, but saw a lot of cars and made some new friends. Thanks everyone!
Reminder: If you have a Ferrari related project, car, or idea you'd like to explore, I'd love to talk to you. I can also help if you're thinking of buying or selling. This website represents what I love to do, share, and how I make a living, so if you'd like to do something together, let me know. It all begins with an e-mail!
Previous Restoration Day
Next Restoration Day
Home page