365GTC Assembly
8/7/11
365GTC Assembly
I've been working on assembling a 365GTC back from a new paint job. The doors were finished along with many of the interior panels and exterior trim pieces.

The GTC has several pieces that go around the headliner, but had to wait until the front and rear glass was installed.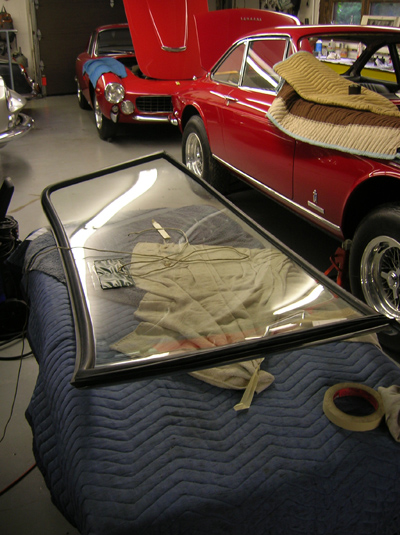 Ferrari glass is one of those dreaded tasks of reassembly for us. Differences in new rubber moldings, chrome trim, window openings or glass can adversely affect how a window fits. It all starts by fitting the rubber to the glass, then carefully fitting the chrome molding into the rubber channel. This painstaking task is accomplished with a varying amounts of lubrication, pressure, and finesse. The frustrating part is just as one piece goes in, another side can pop out, causing you to start all over. With the glass, chrome, and rubber gasket assembled in one piece, the unit is carefully installed on the car using the glass installer's rope. Some shops hire out glass guys to complete this task, and we've even considered it, but I wanted to try my hand with the glass on this car.

Each try can take a couple hours because when there is a problem, the whole process of installing the chrome molding has to start all over. I was very fortunate to have the front glass go in without too much of a problem. It only took two tries to get it in without any gaps in the chrome molding or the rubber gasket. I know some shops make up these differences with urethane sealant, but it's so nice when a gasket goes in without silicone or urethane. One down, one more piece of glass to go!

With the reassembly almost done, we needed to turn our attention to the engine compartment. Since the engine remained in place for the painting, we had a lot of cleaning to do. Painting generates a lot of dust and debris that manages for cover every crevice in a car, and a V-12 engine has a lot of areas to catch sanding residue. What a difference a couple of hours of cleaning can make!
If you're going to be in Monterey on Thursday August 18th, please come an join other tomyang.netters, members of the GTE Registry, and other Vintage Ferrari notables at a cocktail party I'm hosting at Quail lodge from 5:30-8pm . Details can be found here.
Reminder: If you have a Ferrari related project, car, or idea you'd like to explore, I'd love to talk to you. I can also help if you're thinking of buying or selling. This website represents what I love to do, share, and how I make a living, so if you'd like to do something together, let me know. It all begins with an e-mail!
Previous Restoration Day
Next Restoration Day
Home page