Tomyang.net Quail Cocktail Party
8/18/11
Tomyang.net Quail Cocktail Party
I headed back to Monterey for Thursday but spent most of the day running between auctions to preview cars. I had three auctions with specific cars I wanted to see. Previewing these cars was important to me so while I watched these same cars cross the auction block I would have a better idea if these cars were worth the hammer price. As I say to clients all the time, one person's description might not be the same as another's, so it's always good to see a car in person.

There were a bunch of Ferrari for sale in Monterey with something for everyone. Everything from project cars to finished restorations. The prices seemed strong despite the rocky economy. The Gooding Auction is a definite stop during the Monterey week, but competition is pretty fierce. RM set an auction record for a car sold at auction, so there's a lot of cars to see.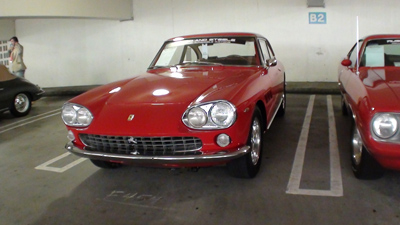 Russo and Steele had a couple of 330s I wanted to see and watch what they did at across the block. This Series I 330 looked nice, and looked like it had a lot of recent work done.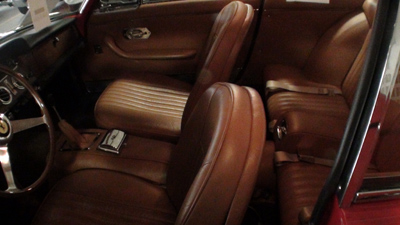 The biggest disappointment was the interior. Whoever upholstered the seats never looked at another Vintage Ferrari interior before because they managed to take all the shape out of the interior with the new leather. These seats look more at home in a Austin Healey or MG than a Ferrari. This is not to slam British cars, but each make and nationality has a particular look to their interiors, and that should be taken into account when restoring the seats. Unfortunately, there's no easy fix to this interior, so I hope the new owner doesn't notice how different these seats look from other Vintage Ferraris. Hammer price on this car was $105K

Another interesting feature on this car was the possibility of a rear mounted A/C unit.

Another car I wanted to see was this SII 330 at Russo and Steele. It was actually a nice car, and probably worth the $115K hammer.

The day passed quickly and I had to head over the Quail Lodge to prepare for the big Tomyang.net Cocktail party. This year, I was staying with a friend of mine near Quail Lodge, and we decided to ask if the patio was available for my party. Since most members of Quail Lodge leave town during the Monterey Car Weekend, the member's area behind the Lodge overlooking the show field was open. It was hard for me to believe my little cocktail party that started in a motel room off Munras with beers chilling in the bathtub had been elevated to the back patio at Quail Lodge!
All Vintage Ferrari Enthusiasts were invited, and Tom Wilson from the 250GTE Registry put the word out as well, so we had a nice group of people. Ferrari Concours Judges, Historians, Owners, and Fans all joined together for a wonderful evening chatting about our favorite subject.

There was a great gathering of new and old friends that I was honored to host at my party. I was happy to see Sue Lewis (Len Miller's Daughter) and Carol Roush, and welcomed these old friends to the new location. I told Sue that her father Len, the founder of the 250GTE Registry, made an impression on me early on in the Vintage Ferrari world with his generosity and charm, so throwing this party was very much in tribute to what he started over 20 years ago. Carol Roush was a fixture at Len's parties with her late husband Gerald Roush, and it's always a pleasure to see her.
Thanks for coming everyone, and with any luck we'll do it again next year!
Reminder: If you have a Ferrari related project, car, or idea you'd like to explore, I'd love to talk to you. I can also help if you're thinking of buying or selling. This website represents what I love to do, share, and how I make a living, so if you'd like to do something together, let me know. It all begins with an e-mail!
Previous Restoration Day
Next Restoration Day
Home page