Saturday at Laguna Seca
8/20/11
Saturday at Laguna Seca
If you have three days to spend at the Monterey weekend, Saturday would be spent at the track. The Historic Races at Laguna Seca is sometimes the only event for racers and they often never even make it into town for the other shows. The pre-Historics begins the weekend before, so the track rats spend over 10 days exclusively at the track. For the rest of us, Saturday is the main day for Laguna Seca.

The main attraction for me at the track this year was the gathering of Ferrari 250GTOs. They were the featured model at Pebble Beach, so many racers also tracked them at Laguna Seca.

It's always a thrill to hear and see a GTO driven in fury at a track, and it's an excellent reminder why these cars became so desirable. 30 million is supposed to be the current price for a numbers matching 250GTO in today's market, and I cheer the folks willing to drive them as they were intended and for us to enjoy the sights and sounds from the grandstands.

The McNeil's were there with 3647, and Sandra was driving the heck out of her car! I've written many times about this car, and even have in-car footage from this unrestored GTO from last Fall.
I shot this video less than a year ago when I was invited to join them at Montecello Race track in NY. Their engine builder was driving, and I can only imagine what it must be like when Sandy's at the wheel!

Sandra started in 5th and managed to hold her position through the whole heat despite a very aggressive driver in the competition Lusso.

I missed seeing this Stanguellini at Concorso, but managed to see it at Laguna. Rare cars like these tend to make the rounds on the Monterey Peninsula, so you never know what's going to be parked in the paddock.

In the car park there is always a great collection of interesting cars as well. David Eichenbaum, the owner of the survivor PF Coupe, was walking around with me at the track taking in all the machinery. It's always good to see the perspective of the weekend through the eyes of a newbie, and he was blown away with the variety of cars all over the Monterey area. You forget how rare it is to see so many different cars parked everywhere.

Sections for Cobras, FIATS, Alfas, Panteras, and everything else was at the track.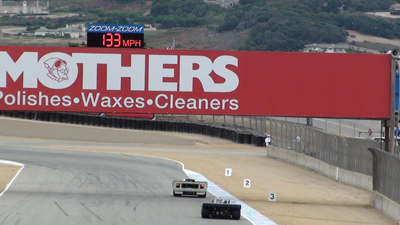 A new feature was a radar speed display at a couple straightaways on the track. I can't imagine how tempting it must be for racers to try and beat their highest speed every lap. I'm surprised there weren't more drivers overcooking a turn by staring at the radar display and not watching the fast approaching braking signs!

There's always a ton to see at the track, and this 1911 FIAT S74 was pretty cool. It's got a huge 4 cylinder engine that propelled this car to a world record of 78.9mph in 1912!

I cannot even imagine the bravery of driving that car that fast with a chain drive!
Reminder: If you have a Ferrari related project, car, or idea you'd like to explore, I'd love to talk to you. I can also help if you're thinking of buying or selling. This website represents what I love to do, share, and how I make a living, so if you'd like to do something together, let me know. It all begins with an e-mail!
Previous Restoration Day
Next Restoration Day
Home page