2259 Brakes and Electrics
9/9/11
2259 Brakes and Electrics
Since I was replacing the brake lines on the Survivor GTE, I decided it was easier to pull the pedal box out of the car to gain access to the lines. While the pedals were out, I put the unit in the wash tank, and cleaned out the accumulated dirt.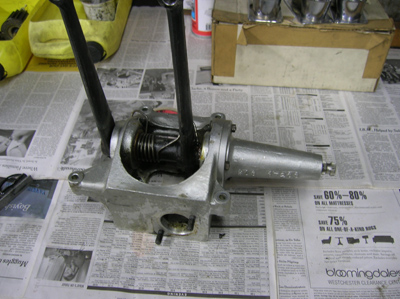 I'm always amazed how well this car cleans up. The pedal box looked almost brand new without any fresh paint.

While I was poking around the inside of the car, I noticed a problem with one of the switches inside the center console. From the look of the resistor wire, I could tell the instrument dimmer switch had broken. Now was the time to pull this switch and re wrap the wire.

The switches are very simple in design with a contact blade that sweeps across a resistor wire. As the resistance increases with more wire to feed the instrument lights, the dimmer the lights will get. When a wire catches on the contact blade, it breaks and unravels from the drum.

There was enough of the original wire for me to re wrap most of the wire back on the switch. Now we'll have working instrument lights!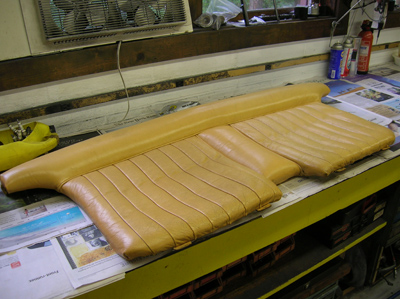 I pulled the back seat out to gain access to the back panel, but while the seat was out, I moisturized the leather. I try to do this will all the leather surfaces whenever I can to bring this interior back to life.

Parts are getting bolted back on the car! The shocks and gas tank are installed, and I'm now working on getting the brakes sorted.
Reminder: If you have a Ferrari related project, car, or idea you'd like to explore, I'd love to talk to you. I can also help if you're thinking of buying or selling. This website represents what I love to do, and now it's how I make a living, so if you'd like to do something together, let me know. It all begins with an e-mail!
Previous Restoration Day
Next Restoration Day
Home page