Yes, Another Barn Find
9/17/11
Yes, Another Barn Find!
I got a call several months ago from a guy that got my number from a mutual friend. John Upshall told me he was a long time Ferrari enthusiast and our mutual friend thought we should meet. As we talked I learned John and I both had previous television careers, and a similar passion for Vintage Ferraris. Over lunch a few days later, we talked about our favorite subject when John told me about an old Ferrari he knew about in Long Island. At this point he really had my interest.
John told me about Lee Branagan, and how he owned this 275GTS that had not run since the mid 70s. John met Lee about 20 years ago, and talked to Lee on and off for the last 10 years about selling his car. Recently, Lee's health has deteriorated to the point where selling the car was a priority. As we talked, John told me about the various people who had come down to see the car, and even a message he posted on F-chat! As this neophyte Ferrari chaser told me what he had done, I was surprised none of the "usual suspects" had not come to Lee's house to buy the car from him. John asked me if I was interested in meeting Lee and if I could help.
Being offered an opportunity like this may only come once in a lifetime, but how it was handled was very important to me. If the car was what John described, then it was worth findng the right buyer to restore this car. I was not interested in making a quick flip to profit from Lee's predicament, but I wanted to help him find his car a good home for a fair price. If I could be involved in the restoration, and post the progress on this website, then everyone in the Vintage Ferrari world could benefit! I needed to act quickly, but respectfully.
When I told Francois about this potential project, he was very interested in taking on the restoration. After my association with Francois for the last 15 years, he has come around to seeing the benefit of the Internet and reach of my website. To have my mentor behind me in this project was a big piece to this puzzle. He even volunteered to come with me to inspect Lee's 275GTS.

Lee is a retired Airline Pilot, and he bought this car in Milan in 1970. He was in the market for a Porsche, but when he saw his first Ferrari, he knew what he had to do! He paid $5700 US for this 275GTS, and had the car flown to the States. After a few years of driving it around Long Island, and occasionally parking it at JFK ariport to catch a flight, Lee parked it in his garage in 1975. "I got married, and had kids!" was Lee's reason why he couldn't find time to keep his Ferrari running.

In the early 90s, John Upshall was at his friend's house in Long Island for a neighborhood barbeque. The subject of John's obsession with Ferrari's came up, and Lee's daughter exclaimed, "my Dad has an old Ferrari in his garage!"
John, figuring it was probably a 308, asked for more information.
"No, it's not a 308. It's an older convertible."
With beers in hand, they walked next door and took a peek under a cover to find a very dusty Ferrari 275GTS!
John and Lee talked, and that was when he started asking around for advice. When a car like this is exposed to the light of day, many people start closing in. There are so few opportunities like this in the Ferrari world that competition is fierce, but Lee managed to hold onto the car.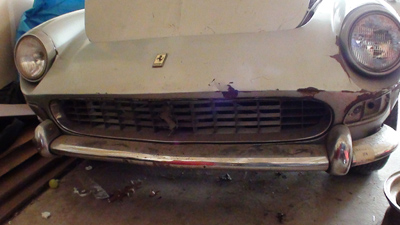 When we went out to see the car for the first time several months ago, we found a complete car, but in dire need of EVERYTHING! Almost all the body panels were dented, scratched, or marked, but as Francois and I took inventory, most all the pieces were accounted for, despite the years of neglect.

The engine had not been run in years, so a rebuild was definitely in its future.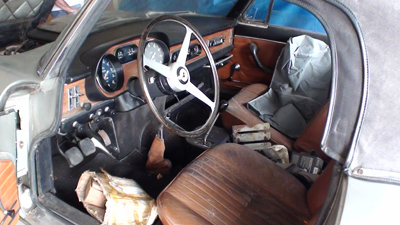 The soft spot in my heart was beating rapidly with the prospect of bringing this old girl back to life. I imagined the opportunity to restore another Vintage Ferrari with Francois, and document it on the web for everyone to share, but I had a monumental task ahead if I was going to reach my goal. First I had to come up with a buyer with the same sensibility and vison of having me and Francois restore the car. Second, the buyer would have to be open to sharing the restoration progress on tomyang.net. Third, I had to come up with an agreeable price between the buyer and the seller, and Fourth, I had to do all this without attracting the attention of others that could come in and buy the car out from under us!

Five months later, after countless phone calls, a couple of visits, and some excitied discussions, I found the buyer, met at a price, and agreed on today to close the deal. Lee's final request was to have a chance to photograph his grandchildren in the car before we took the car to our shop and I was happy to oblige.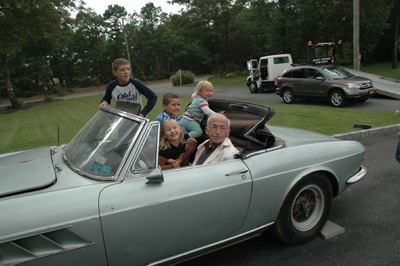 I love what I do for a living, but this aspect is something I find very hard to do. If you've ever watched the movie "Citizen Kane," you'll understand that our Ferraris are our "Rose Buds," and selling it is not so easy. I tried my best to be repectful and fair because I too will one day be in Lee's position when it comes time to sell my 330 America. I only hope I have someone who will do right by me!

As I looked out behind the rollback to see Lee's old 275GTS, I could barely believe I got it! I had to live in secrecy about this car for months while I worked very hard to find the right person to buy it. Luckily he was right in front of me among my customers, so it was a match that was meant to be. I still want Lee to be a part of this restoration by following along with everyone else on this website, and maybe even get to drive his old girlfriend again when we're done!
Reminder: If you have a Ferrari related project, car, or idea you'd like to explore, I'd love to talk to you. I can also help if you're thinking of buying or selling. This website represents what I love to do, and now it's how I make a living, so if you'd like to do something together, let me know. It all begins with an e-mail!
Previous Restoration Day
Next Restoration Day
Home page