Interim 330 Engine Detailing
10/6/11
Interim 330 Engine Detailing
I'm making some good progress on the engine detailing on the Interim 330 we have at the shop. Freshly painted valve covers and engine surfaces really dress things up. I also installed new intake o-rings.

The wrinkle painted spark plug tubes received new wires, o-rings and grommets before the boots and ends were crimped in place. You have to label the wires as you fish each one through according to the firing order and the position on the distributor cap.

There's a specific curve the wires take coming out of the spark plug tube as it is routed through the wire keeper at the base of the distributor and on into the distributor cap. The curve allows the distributor to turn for ignition advance and also keeps the wires out of the way of the throttle shaft. Speaking of the throttle shaft, all the linkage pieces were sent out for black oxide.

Cutting the spark plug wires evenly makes everything look very neat and gets Francois' approval.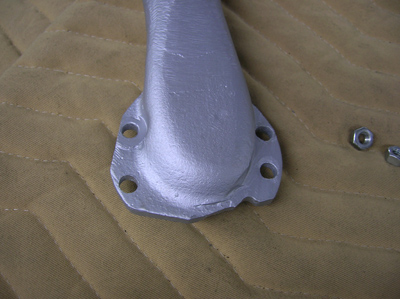 The hold up on this job has been a repair done by a previous mechanic. The oil filler pipe and oil filter stand was strangely modified, and it didn't become clear until we took the modified pieces off to investigate.

Four studs were broken off at the timing chain case, but when we attempted to drill some of them out for new studs, we found the remnants of a something very hard broken off inside one of the holes. The former mechanic must have broken a drill bit or a stud extractor in one of the holes and gave up when he tried to remove the piece.

Instead, they modified the holes on filler neck along with the shape of the neck. Luckily, we had an original filler neck that would work on this application, and restored the pieces back to the original configuration.

Here's what the right side of the filler neck looked like, and now we have the left side of the engine matching the right as Enzo intended.

The devil is in the details, but this engine compartment will be very nice when we finally finish!
Reminder: If you have a Ferrari related project, car, or idea you'd like to explore, I'd love to talk to you. I can also help if you're thinking of buying or selling. This website represents what I love to do, and now it's how I make a living, so if you'd like to do something together, let me know. It all begins with an e-mail!
Previous Restoration Day
Next Restoration Day
Home page