Wilzig Racing Manor
10/10/11
Wilzig Racing Manor
Mark Searle of the The Empire State Ferrari Club arranged to visit a private race track on the estate of Alan Wilzig a couple hours north of New York City this past weekend. The nice thing is The "Wilzig Racing Manor" is just 5 minutes from my house, so I wasn't going to miss the opportunity to meet one of my neighbors!

Alan has spent the last several years building a dream house with a track and museum on his property that any car enthusiast would envy, and he was happy to open his doors to the Ferrari club.

After a nice lunch overlooking the pool, owners strapped into their Ferraris to try out the track!

Built on a plateau on the Wilzig Estate, the track looks out on the Berkshires and Catskill Mountain ranges.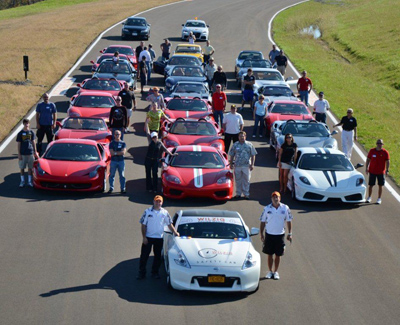 Photo WRM
We had a nice turnout for this inaugural event, and Alan looked like he had a fun time showing us his toys and sharing his enthusiasm for the everything with wheels!
Alan took me around in the pace car to show me around the track, and here's the video. Enjoy!
Thanks Alan for your time and the invite!
Reminder: If you have a Ferrari related project, car, or idea you'd like to explore, I'd love to talk to you. I can also help if you're thinking of buying or selling. This website represents what I love to do, and now it's how I make a living, so if you'd like to do something together, let me know. It all begins with an e-mail!
Previous Restoration Day
Next Restoration Day
Home page