The 275GTS Restoration Begins!
11/6/11
The 275GTS Restoration Begins!
A customer's 275GTS that was purchased several weeks ago was brought into the shop to begin a full restoration. It's so exciting to roll in an old delapidated car into the shop, knowing when it emerges again, it'll be brand new again.

One of the first steps was to inspect every inch of this car and take notes on what areas need special care. Dents and broken pieces were taken into account and I started making a list of parts I may need to source. The fit of the bumpers to the body were measured because any issues with fit would need to be made to these parts before they are sent out for chrome and paint.

Minor accident damage to the left front corner would need to be pulled out and the turn signal assembly would either have to fixed or replaced. I'll have to see if 275GTS front marker lights are the same as another model, or if it is specific to the GTS.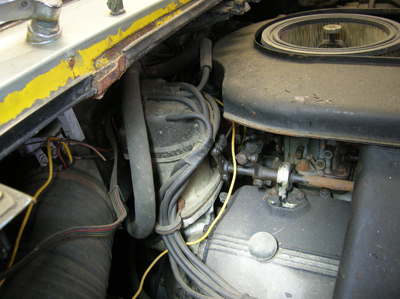 This is the beginning of a complete restoration, so every mechanical piece will be removed and refinished. Most everything will need attention, and I look forward to making everything new again.

As parts are removed, all the pieces need to be disassembled, labeled, sorted for plating, painted and repaired. I've never counted how many pieces there are in a Ferrari, but the number has to be in the thousands!
Reminder: If you have a Ferrari related project, car, or idea you'd like to explore, I'd love to talk to you. I can also help if you're thinking of buying or selling. This website represents what I love to do, and now it's how I make a living, so if you'd like to do something together, let me know. It all begins with an e-mail!
Previous Restoration Day
Next Restoration Day
Home page