330GT Repairs
12/20/11
330GT Repairs
A Series I 330GT 2+2 was dropped off at the shop with a list of about 5 items, so I put her up on jack stands to try and get the car in and out!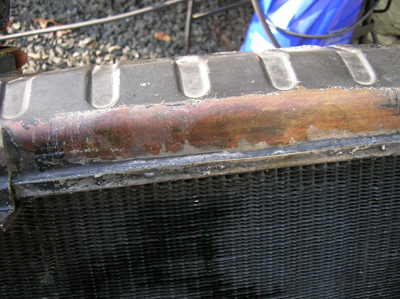 The radiator had developed a leak so the hood had to come off for the radiator to come out. We sent it out to our radiator guy to take a look at it.

The owner said he was hearing some noise from the front right wheel and suspected a wheel bearing was going bad, so I took a look. It definitely had some play in the hub, so I pulled the hub off and found a disintegrating outer wheel bearing.

The bearing cage was broken and a couple of the ball bearings were MIA.

The bearing spacer was showing some bluing from excessive heat, so bringing the car in for service was done just in time!

Speaking of 330s, Ben sent me pictures of his RHD Series I 330GT several months ago from a show he attended. It was a lot more finished than when I saw it over a year ago In Oceanside, CA. Here's the original post about Ben's 330GT.

Reminder:
2011 Annual Pledge Drive
Donations can be sent via Paypal through clicking this button below, or sent to my paypal account: tom@tomyang.net
You can also send checks made payable to Tomyang.net LLC
Tomyang.net LLC
P.O. Box 36
Hollowville, NY 12530
Thanks everyone for your support and I hope you like what you see on this website.
Tom Yang
Previous Restoration Day
Next Restoration Day
Home page