330 Engine Rebuild
2/14/12
330 Engine Rebuild
A new customer dropped off an engine at the shop today. It came out of a Series I 330GT 2+2 that had been parked for at least 15 years. After purchasing the car, the new owner immediately began tearing into the car to begin a full restoration. He's leaving the engine rebuild to us along with some of the other mechanical items.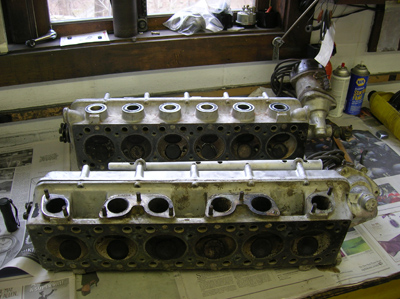 As the engine was disassembled and cleaned, it became clearly apparent why this car was parked for so long.

Three cylinders showed dropped or missing valve seats. The cylinder heads showed damage from parts of the valve seats disintegrating and smashing against the head and the piston.

I disassembled the heads so we could get the heads down to our machine shop.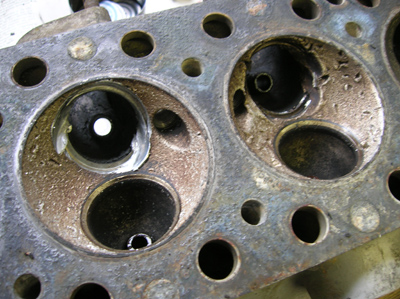 From the damage to the cylinder heads, we can see the previous owner drove this car a little bit before parking the car for good. It brings a new meaning to "ran when parked!" Our machine shop will have some extra work building up the heads with weld before machining pockets for new seats, but when we're done, everything will be good as new.

I'm giving Facebook a try, and you're welcome to join me at http://www.facebook.com/tomyang.net . It may take some time to "friend you," so be patient. Don't worry if you don't "do" facebook, I'm still going to be writing most of my content right here. The Facebook page will be more casual. Although I have a twitter account as well, I have not figured out how I'd like to use it!
A client of mine has a Lusso Transmission for sale. It's a 250 4-speed transmission. If anyone is interested, let me know.
Reminder: If you have a Ferrari related project, car, or idea you'd like to explore, I'd love to talk to you. I can also help if you're thinking of buying or selling. This website represents what I love to do, and now it's how I make a living, so if you'd like to do something together, let me know. It all begins with an e-mail!
Previous Restoration Day
Next Restoration Day
Home page