330s, Including Mine!
4/26/12
330s, Including Mine!
I'm just about finished with the major service on the Series II 330GT 2+2. After a carb service, ignition tune, and oil change, the engine is running a lot better. As I suspected, the engine now pulls strongly at wide open throttle. There was a howl that was missing in this engine, and now it was back! I also checked all the fluids, and changed out the transmission oil along with the coolant, so this car was good to go. One little detail I fixed that was outside the tune up was I painted the Ferrari lettering on the valve covers. I couldn't help myself because it's a pet peeve. The lettering was painted black wrinkle from the Factory and it should remain that way!

I found some time this week to fix a horn on my car. Only one air horn worked on my 330 America, and I suspected it was from my heavy handed adjustment years ago.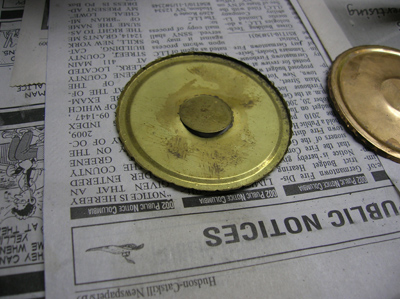 The horn works by adjusting the end of the horn against a thin brass diaphragm as air is pushed through by the compressor. If the horn is adjusted too far, the brass diaphragm can get punctured or damaged. Francois lent me a perforated one so I could order the correct brass sheet to replace my damaged one.

Using the original one as a template, I cut the thin brass sheet to the same shape and installed it in the horn. This time, I carefully adjusted the horn against the new diaphragm. When adjusting the horns, realize the two horns are interrelated and as one changes pitch, it can affect how much air is sent to the other one. Adjust the two horns until the low and high pitches make a pleasant tone.

Set the Date!
Saturday May 5th 2012
The Radcliffe/Tomyang.net Spring Car Show
The 5th Annual show brought to you by car guys, for car guys
12340 Owings Mills Boulevard
Reisterstown, Maryland 21136
Phone: 410-517-1681
Register Early for Show Cars, spectators are free!
Reminder: If you have a Ferrari related project, car, or idea you'd like to explore, I'd love to talk to you. I can also help if you're thinking of buying or selling. This website represents what I love to do, and now it's how I make a living, so if you'd like to do something together, let me know. It all begins with an e-mail!
Previous Restoration Day
Next Restoration Day
Home page