Another 330 Engine
5/8/12
Another 330 Engine
Less than a year ago I found myself in Delaware arranging the purchase of a Series II 330. The owner shipped the car to Texas and was excited to start a complete ground up restoration on the car.

The car had not seen a lot of mileage over the years, so it was a complete and unmolested car.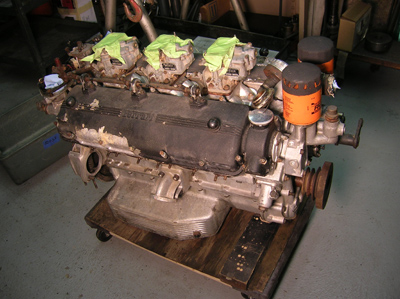 I met Pat, the new owner in Dallas a few weeks ago, and he told me he was finally ready to begin the work on the car. He was pulling the engine to have us rebuild it at Francois' shop. The engine arrived safely by freight this week, so I began the tear down.

With the valve covers off, I took a closer look at the valve train. There were no surprises, but it had the usual signs of wear. With new valves, seats and guides, we'll set this engine straight.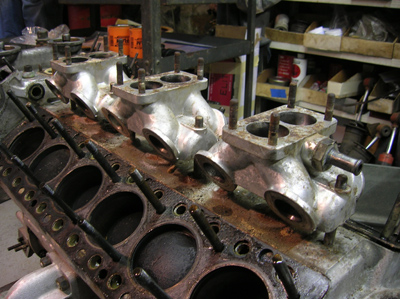 The first major stumbling block was finding the intake manifolds stuck to their mounting studs. The aluminum parts on a Ferrari engine often seize on the steel studs due to electrolytic corrosion, and I usually expect to use a special fixture to pull off the heads, but having seized intakes is less common at our shop. I ended up pulling the heads first with our head puller, but the intakes are going to take some more work. I soaked them with penetrating oil, but the reality was another tool will have to be fabricated to safely pull the intakes without damage.

Reminder: If you have a Ferrari related project, car, or idea you'd like to explore, I'd love to talk to you. I can also help if you're thinking of buying or selling. This website represents what I love to do, and now it's how I make a living, so if you'd like to do something together, let me know. It all begins with an e-mail!
Previous Restoration Day
Next Restoration Day
Home page