Sending GTE 2259 Home
6/10/12
Sending GTE 2259 Home
The Journey of the Survivor 250GTE was coming to an end last week when I completed a valve adjustment and head torque on 2259. Everything looked pretty good under the valve covers, and it looks like this engine is going to perform fine for the owner for many years to come.

A new set of valve cover gaskets were installed, but as usual with Ferraris, nothing fits perfectly! Installing the valve cover gaskets requires several fittings to make sure the gasket lines up with the studs for the valve covers. Forcing the fit will only tear the gasket, causing leaks. We use a hole punch to widen the holes in the gasket for a better fit. Gasket sealer is unfortunately a must to insure a leak free seal.

We manged to fix the brake issue on this car by gutting the equalizer unit mounted below the radiator. The pedal feel is much better than before, and there is a much more confident feel in the braking of the car. These early disc brake cars left Ferraris with a lot of room for improvement, but at least this car stops a lot better than before!

I did a final clean up and inspection of 2259 before calling the shipper to send this car out to the owner. This car went through a huge transformation in the 14 months we had the car. The engine was rebuilt, the brakes refurbished, the rear differential was resealed, the seats were saved and repaired, and the carpets were replaced.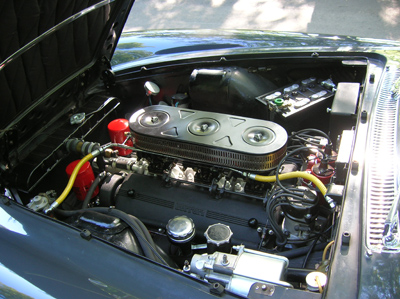 She starts and drives like a new car, and yet we managed to retain all the character of the 50 year old car when we found her. I'm proud of the work that went through finding, refurbishing, and delivering this car. The plan now is to get this car on a truck headed west for her first public appearance for the Palo Alto Concours. If you see this original paint and interior 250GTE at that show, please tell the owner "Hi!"
We're also planning on showing this car at the Ocean Ave show in Carmel in August, along with Concorso a couple of days later, so I hope you'll get a chance to see this car. See you there!
Reminder: If you have a Ferrari related project, car, or idea you'd like to explore, I'd love to talk to you. I can also help if you're thinking of buying or selling. This website represents what I love to do, and now it's how I make a living, so if you'd like to do something together, let me know. It all begins with an e-mail!
Previous Restoration Day
Next Restoration Day
Home page