Another 330
7/10/12
Another 330
I did an inspection on a Series II 330 a few weeks ago for someone who decided to go ahead and purchase the car. I agreed to sort some of the issues on the car as soon as I got a chance. The owner patiently waited while I cleared some work out to bring this newly purchased Ferrari into the shop!

Coincidentally, this car also needed its wheels painted, so I started there. Getting to work on certain projects that take longer on a car is very important in keeping the work flow moving, so getting the wheels off and out was at the top of my list.

My wheel painter can turn a set of wheels around in less than two weeks, but the chrome trim rings will take a little longer at the chrome shop. These trim rings looked fine on the stripped magnesium wheels, but with fresh paint on the wheels, I think they'll look a little too scratched and dented.

The trim ring on the spare was pretty rusty, so we decided to send them all out for plating. With fresh rubber, the owner won't have to worry about the wheels and tires again for a while.

We jacked the car up to take a look at the front suspension. During our test drives, Francois and I noticed something wrong with the ride on this 330. There was nothing visibly wrong, but there seemed to be no travel in the front suspension. We started with our investigation to see what it was. If the shocks were seized, we would need some time to send it out for rebuilding.

As I started to do a general tune up, I started a list of cosmetic improvements to make this car more presentable. The previous owner installed some aluminum foil insulation where the hood pad should be. The original stuff was a quilted piece with a very specific shiny cloth. I believe this material is now available, and can be made up to look original.

The air cleaner assembly could use a stripping and repaint.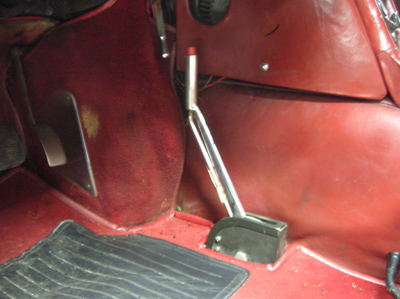 The parking brake leather cover was missing.

Since we're sending parts out for chrome, we're sending out the fuel rail for plating as well. The valve covers will get a fresh coat of wrinkle paint and yes, the "Ferrari" logo will get covered in black wrinkle as it's supposed to be!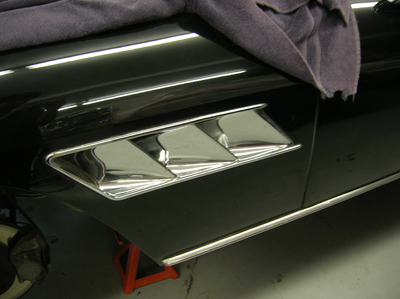 I've already received a couple of e-mails to paint the extractor vents on this car back to the body color as they are supposed to be on a 330. On this black car, I kind of like the look of the chrome vents, but it'll be up to owner.

As I began a general tune up, I noticed little things wrong and made a list of things I needed to correct. A funny thing I found was the way the choke cable was run on this car. It was anchored in the heater control lever as well as the chokes on the carbs. Although the heater control valve was seized, if it was working, pulling the choke the way it was routed would have also operated the heater, not the way it was supposed to be!
Quail Cocktail Party



I'll be out in Monterey again this year, and I'd like to invite you to an informal gathering of Tomyang.netters at the Quail Lodge on Thursday August 16th, 5:30-8:00pm. The cocktail party will be held behind the Lodge by the pool overlooking the greens where the big Quail show will be setting up the next day. It's a great chance to put faces to names that we hear on the Internet, and meet some of the restorers, parts suppliers, and owners of Vintage Ferraris. I hope to see you there!
Reminder: If you have a Ferrari related project, car, or idea you'd like to explore, I'd love to talk to you. I can also help if you're thinking of buying or selling. This website represents what I love to do, and now it's how I make a living, so if you'd like to do something together, let me know. It all begins with an e-mail!
Previous Restoration Day
Next Restoration Day
Home page