Concours on the Avenue
8/14/12
Concours on the Avenue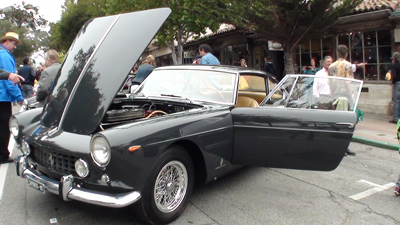 I headed out to Monterey early this year to show Ferrari GTE 2259 at the Concours on the Avenue on the Tuesday before the big Monterey weekend. This show was started several years ago by my friends Doug and Genie Freedman as a casual show open to the public in Carmel By the Sea. Through the years, it has grown into a wonderful event attracting a variety of significant cars. I asked Larry Hernandez, the owner of 2259, to show the car at this event so the public could get a chance to see our work in resurrecting this old Ferrari.

We were in good company on our side of the street with a very rare and beautiful NART Spyder.

I really like the casual atmosphere of this event, especially the access people have to the cars. It's a free show for the spectators, and yet it allows the spectators to see some fabulous cars. The Monterey weekend has grown so much over the years, with many events to attend, but very few of them are free. I guess it's the nature of commercialism, but I commend the Freedmans for their efforts for the common car guy!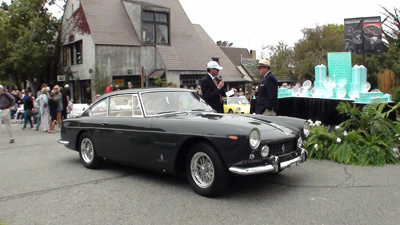 It was a joy and an honor to show Larry's truly original car that we did together for the past two years. We didn't win an award at this show, but we were happy with its reception. I second guessed myself all evening why we didn't win, but we celebrated the completion of her first show on the Monterey Peninsula over dinner at Mission Ranch. Clint Eastwood, the owner of the restaurant, was not there but I bet the Hernandez's company was better!

Reminder: If you have a Ferrari related project, car, or idea you'd like to explore, I'd love to talk to you. I can also help if you're thinking of buying or selling. This website represents what I love to do, and now it's how I make a living, so if you'd like to do something together, let me know. It all begins with an e-mail!
Previous Restoration Day
Next Restoration Day
Home page