Monterey Auctions
8/14/12
Monterey Auctions
After a long day showing 2259, I spent Wednesday in Monterey looking at auctions, and getting tickets. Tickets to the various concours and track days can be purchased at discount in advance, and I usually don't commit to a schedule until I'm sure I can attend. There are specific venues and ticket offices that need to be visited all over the Monterey Pininsula, so it can take a whole day to secure the proper credentials, wrist bands, and access.

One of my stops in Downtown Monterey was the RM Auction. There were some interesting high dollar Ferraris for sale, but I was interested in seeing some cars that were in the six figure range!

Michael, a good friend of mine, is in the market for a 365GTC/4 so we took a close look at this example. We knew some of the restorers and mechanics that worked on this car in the past, so not only did we do a visual inspection, but we also had a chance to speak to the people who had a hand in it's care. Although Michael decided to pass on this car, the hammer price was $181K.

I was asked to look at some SI E-Types while I was there, and this one sold for $165K.

I was especially interested in this Ferrari Series II 250PF Cabriolet. It sold for $715K.

I met up with a bunch of guys for lunch in Carmel, and headed over to Pacific Grove to see "The Little Car Show." I believe cars with under 1.6 liter displacement were welcome to attend, but I think the rules were not set in stone.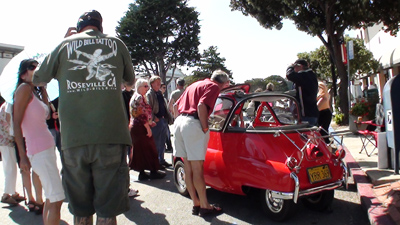 Isettas and Messerschmitts were expected, but there were some unusual entries as well. I ran into a friend that entered his Honda Insight which fell easily into a class.

I spotted this very nice Pre-A Sunroof 356 Coupe, which would have been welcome at any regular car show!

I also loved seeing this "slammed" mini truck at the show. It's obvious the California Car Culture is alive and kicking!

Reminder: If you have a Ferrari related project, car, or idea you'd like to explore, I'd love to talk to you. I can also help if you're thinking of buying or selling. This website represents what I love to do, and now it's how I make a living, so if you'd like to do something together, let me know. It all begins with an e-mail!
Previous Restoration Day
Next Restoration Day
Home page