Laguna Seca Saturday
8/18/12
Laguna Seca Saturday
Still on East Coast time, I headed over to the track early to beat the crowds. It was a big year for Cobras, celebrating the life of Carroll Shelby.

Some of the rarest of Cobras were seen all over Monterey. For a rare moment, an owner of one of these cars can park on the street and not be mistaken for a replica! In fact most of the ones seen this weekend were the real thing.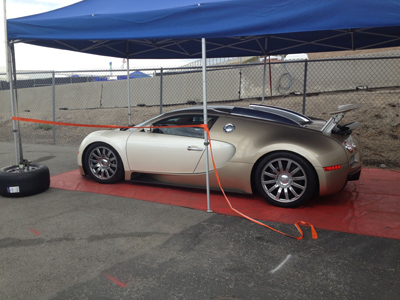 Only in Monterey can one see a Bugatti Veyron parked without attracting a crowd!

Unfortunately in the middle of my day, I still had one more job to do, and that was to make sure the 500 Superfast I was entrusted with was loaded on a truck and sent back to the owner's home. I was kind of sad to send such a pretty car away, but I was also kind of glad it was now in the hands of someone else. Once the doors closed on the trailer, I was officially "off the clock!"

Reminder: If you have a Ferrari related project, car, or idea you'd like to explore, I'd love to talk to you. I can also help if you're thinking of buying or selling. This website represents what I love to do, and now it's how I make a living, so if you'd like to do something together, let me know. It all begins with an e-mail!
Previous Restoration Day
Next Restoration Day
Home page