330 and 275 Trim Pieces
9/3/12
330 and 275 Trim Pieces.
A friend of mine is restoring a 330GT and wanted to replace the lower time panel because a previous owner crudely cut speaker holes right through the trim panel. I told him about the 57 Chevy Bel Aire tail fin trim panel many of us have used to replace this panel, but he decided to try a different path.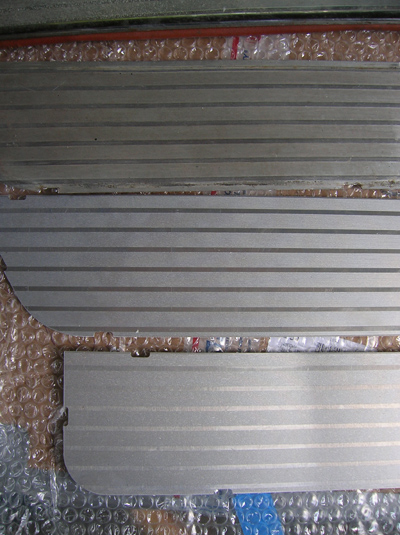 He has a friend with a CNC mill that was willing to give a shot at making these panels on his mill. After a couple of tries and several hours of machine time, he recreated a pretty good copy of the original piece.

Most of the original pieces on 330s and 275s are pretty beat up from scuffs and wear over the years, and if you want these panels to look as fresh as the rest of the interior, this is a nice way to go. I think I can sell these for $500 a set if I can have him make a run of a few sets. They're cut to size with the proper slots, and should fit nicely in your chrome trim piece. Let me know if you're interested, and I'll have him run a few sets.

Speaking of trim pieces, I also have the mylar foil piece that goes around the bottom of GTE, 330GTs and 330GTC seats if anyone is redoing an interior. E-mail me if you're interested in any of this stuff. Thanks!
Reminder: If you have a Ferrari related project, car, or idea you'd like to explore, I'd love to talk to you. I can also help if you're thinking of buying or selling. This website represents what I love to do, and now it's how I make a living, so if you'd like to do something together, let me know. It all begins with an e-mail!
Previous Restoration Day
Next Restoration Day
Home page