330 Engine Rebuild
9/8/12
330 Engine Rebuild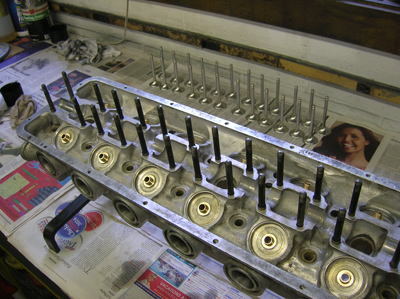 I started the process of another engine rebuild this week. It's a 330 engine from a SII 2+2 that's going through a full restoration at the owner's shop. He's pretty familiar with the process of restoration, but decided it was better to send the engine to us for the rebuild.

New valves, guides, seats, and seals were installed in the heads.

New pistons were purchased and assembled. I measured and filed all the rings to fit each cylinder and got things ready to put into the block.

While I was working on the engine rebuild, I also started rebuilding some of the engine components like the water pump.

When we first tried to disassemble the water pump, the front plate was so seized and corroded to the pump housing, it fell apart when we finally got it off. Luckily, we were able to find an original replacement plate to replace the broken piece.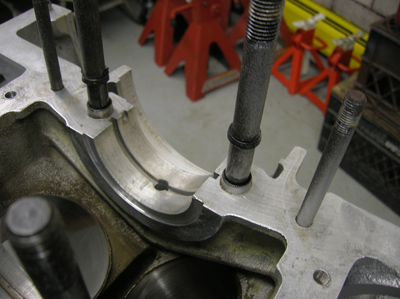 Rebuilding a Ferrari engine is not any more complicated than any exotic engine of its day, but there are a few tricks that people not familiar with the process can miss. One trick is the rear main bearing cap studs need seals to keep oil from leaking out. Forgetting these o-ring seals can be problematic after the engine is installed because the rear main bearing cap doesn't come out without the engine being out of the car!
Reminder: If you have a Ferrari related project, car, or idea you'd like to explore, I'd love to talk to you. I can also help if you're thinking of buying or selling. This website represents what I love to do, and now it's how I make a living, so if you'd like to do something together, let me know. It all begins with an e-mail!
Previous Restoration Day
Next Restoration Day
Home page