Parking Brakes and Seat belts
10/27/12
Parking Brakes and Seat belts
We had two PF Coupes at the shop, and it was neat to see them parked next to each other. Both are SII cars with disc brakes and overdrive transmissions. Like I said, one of them is for sale, so e-mail me if you want more information.

The other 250PF Coupe was recently purchased by a customer of ours, and needed seat belts installed.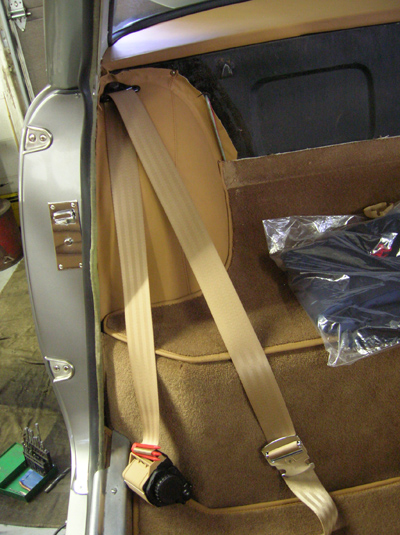 After custom ordering color coordinated belts, I had to fabricate brackets to mount the retractor to the floor. New mounts were installed for the third point of the three point seat belt.

The GTE at the shop needed new brake shoes for the parking brake. Once these shoes wear a little bit, it's very hard to get the brakes to hold with adjustment alone.

New shoes arrived from our parts supplier with the proper copper rivets for installation.

The front suspension bump stops arrived in the mail as well. The next task will be to remove the old brackets that held the old bumpers that look to be rusted in place.
Reminder: If you have a Ferrari related project, car, or idea you'd like to explore, I'd love to talk to you. I can also help if you're thinking of buying or selling. This website represents what I love to do, and now it's how I make a living, so if you'd like to do something together, let me know. It all begins with an e-mail!
Previous Restoration Day
Next Restoration Day
Home page