2012 Tomyang.net Pledge Drive
12/2/12
2012 Tomyang.net Annual Pledge Drive
It's time again for my annual Tomyang.net Pledge drive. Your contributions help fund this costs of this website and the events that I host throughout the year. Here's a quick recap of what happened on this website in 2012:
We fired up the survivor GTE for the first time in over 40 years in the Spring of this year. It was all part of the push to get her ready for the car shows on the West Coast that summer.

The 275GTS was stripped and prepped to send out to the body shop for repairs and eventually paint.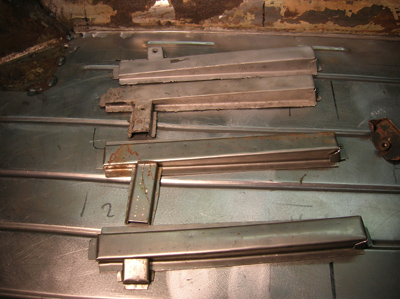 The floors were repaired at our shop first, with new pans, and seat mounts.

Two engines came into the shop for rebuilds including this one from Texas.

A second one from New England had a some signs of valve seat failure, but luckily, there wasn't anything that couldn't be repaired by our machine shop.

The 275GTS engine was rebuilt by the summer after we finished the 250GTE engine that was going out to CA.

Just last week, I was putting the final touches on the 330 engine to bench fire before making arrangements to send it across the country. The 330 with the bad valve seats is next in line!

In March, I had a chance to go to Dallas to visit Bob Smith's place Coachworks. It's always so educational for me to see how the other shops do Ferrari Restorations.

In May I co-hosted my annual Radcliffe/Tomyang.net Spring car show in Maryland. As usual, it was a lot of fun with an ever growing turn out of mostly Italian machinery.

In August during the Monterey car weekend, I hosted my second annual cocktail party at The Quail Lodge. It was a great event where other Tomyang.netters shared a drink with like minded enthusiasts.

After all the hard work on the Survivor GTE, the owner and I won the Preservation Class Award at Concorso Italiano over the Summer in Monterey. It was nice to receive such a level of recognition not only among Ferraris, but all the marques represented at Concorso!

In the fall, I sent a black 330 home to its new owner to get the last bits of Fall driving in. It was his first Vintage Ferrari, and I was happy to witness the new adventure begin!

Another 330 was sent to Georgia to its new owner as well.

I just completed a Daytona clutch replacement, and am getting ready to start on a new project, so stay tuned for the next adventure!

Through all the projects and engine rebuilds, I still managed to take my 330 America out for a few times this year, but I've got my own little "to-do" list to complete over the winter.
Your contributions help keep this website going, and pays for my time and effort I put into bringing it all to you. If you think you benefit from this site in the form of simple weekly entertainment, or actual advice and assistance in keeping your Ferrari on the road, now is the time to show your appreciation.
Donations can be sent via Paypal through clicking this button below, or sent to my paypal account: tom@tomyang.net
You can also send checks made payable to Tomyang.net LLC
Tomyang.net LLC
P.O. Box 36
Hollowville, NY 12530
Thanks everyone for your support and I hope you like what you see on this website.
Tom Yang
Previous Restoration Day
Next Restoration Day
Home page