330 Electrics and PF Coupe Details
12/8/12
330 Electrics, and PF Coupe Details
An intermittent problem with the brake lights on the 330GT needed a closer look and it pointed towards the rear light assembly.

The brake light is the commonly found 1157 double filament bulb, but the fixture was loose and not making good contact with the back of the bulb.

After removing the light socket by carefully bending back the securing tabs, I disassembled the back of the light. The internal plastic parts had cracked and was not holding all the springs and connectors in place. The problem is these sockets are getting hard to find, and finding the whole light assembly is not any easier, especially one that matches the "patina" of the opposite light! After a search on the Internet for possible solutions, I ordered some parts to see if I can fix the light. Stay tuned to see if I succeed!

I have a PF coupe at the shop that the owner would like to sell. It's a very original car with about 40K original Kilometers on the odometer. It's a pretty neat "survivor car" with many of it's original details. Since it was already at our shop, the owner has asked if we were up to the challenge to clean up some of the engine compartment while preserving many of the original details. I was psyched to give it a shot.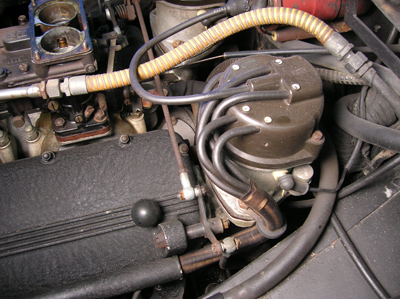 There are a ton of clues this car has never apart, but some of the parts were a little too crusty. The paint on the valve covers were flaking off, and the clear cad plating on the acorn nuts were gone and rusting. The fuel lines were still original, and probably dissolving from the new gasoline.

The carbs were pretty crusty as well, with a lot of sediment in the the bowls, so they were removed for cleaning.

I'm sending out the fuel rail for re-chroming, and removing the hose clamps for some fresh plating.

I'm struggling, however, with some of the original details. This vacuum hose was an original hose, still with its Pirelli sticker on the hose, but replacing it with a new hose would destroy this piece of originality.

The valve train is in remarkable shape, and supports the mileage on the odometer. The valve covers were leaking badly, but it was because the engine still had its original valve cover gaskets!
Thanks to everyone who donated to this year's Pledge Drive already. I only run this drive through the month of December, but use the contributions to fund this website and expenses for Tomyang.net functions throughout the year. Thanks for your help.
Donations can be sent via Paypal through clicking this button below, or sent to my paypal account: tom@tomyang.net
You can also send checks made payable to Tomyang.net LLC
Tomyang.net LLC
P.O. Box 36
Hollowville, NY 12530
Thanks everyone for your support and I hope you like what you see on this website.
Tom Yang
Previous Restoration Day
Next Restoration Day
Home page