Seeing Double, and Fuel line Parts
12/16/12
Seeing Double and Fuel line Parts
No, you're not seeing double. We have two nearly identical PF Coupes in the shop. Both are Series II cars with disc brakes. The one in the front had new headliner installed and needed to have the the front and rear glass reinstalled along with the associated trim pieces. The one in the rear is getting the engine tuned and detailed.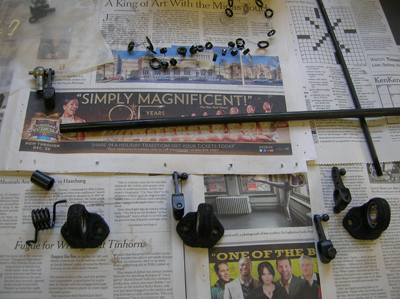 Part of the engine compartment detailing was to clean up of the throttle linkages. The throttle stands needed needed new wrinkle painting, and the throttle shaft pieces came back from black oxide refinishing. I laid out the pieces in correct order following my notes and pictures before I took it all apart. There are a lot of fiddly little pieces, but having done a bunch of these, the order follows a certain logic.

The front drive pulley on the engine was removed to clean off the surface rust and to be painted.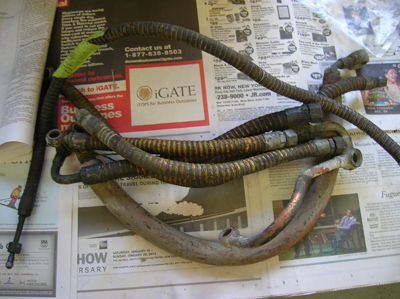 The 330 engine at our shop for rebuilding is nearing completion, but I've been talking to the owner in Texas about the ancillary parts that will need restoration before he fan fire up his engine in his car. The fuel lines were still sitting in a pile at his shop, so we decided it was best for me to clean these up since we have all the platers, parts, and techniques for redoing these lines. I carefully labeled the lines so I could use the lengths to make up new lines.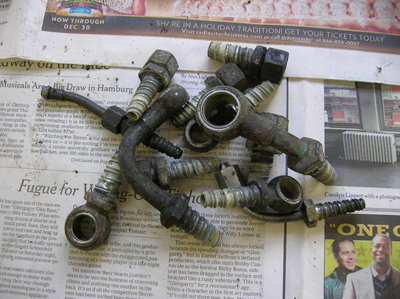 Once the fittings were removed, they were degreased, cleaned, and bead blasted so I could get them clear cadmium plated.

Cadmium plating is charged in batches by my plater, so I always try to send out as much at one time as I can.
Thanks to everyone who donated to this year's Pledge Drive already. I only run this drive through the month of December, but use the contributions to fund this website and expenses for Tomyang.net functions throughout the year. Thanks for your help.
Donations can be sent via Paypal through clicking this button below, or sent to my paypal account: tom@tomyang.net
You can also send checks made payable to Tomyang.net LLC
Tomyang.net LLC
P.O. Box 36
Hollowville, NY 12530
Thanks everyone for your support and I hope you like what you see on this website.
Tom Yang
Previous Restoration Day
Next Restoration Day
Home page