330 Light Assemblies, and 250 Axle Seals
12/20/12
330 Light Assemblies, and 250 Axle Seals
A couple of weeks ago, I took a rear tail light assembly apart to fix a bad socket, and I found a solution.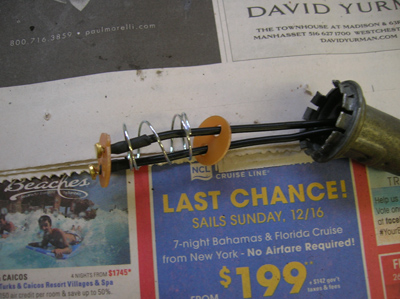 A company makes pigtail connectors for the 1157 bulb assembly that I modified to fit inside the original socket. The connector also needed a little bit of shrink tube to keep the contacts from shorting out on the spring, but with some filing and fitting, I got it to work. This saved the original light assembly, and the trouble of finding obsolete parts that would have to match the finish and condition of the other brake light assembly.

As I went to adjust the parking brakes on the PF Coupe, I found one of the rear axle seals was leaking gear oil. New seals were ordered, and I took the rear hubs off to change the seal.

On assembly, I made sure to remember to mark the location of the cotter pin hole on the axle shaft to make it easier to line up the holes in the hub. RTV was used on many of the mating surfaces and axle nut even though there wasn't any from the factory. These mating surfaces can use a little help with the sealing after all these years. With the new seal, and sealant applied to the usual failure points, we have a much better chance of a leak free axle!

I'm busy at home working on some steering wheel restorations. Winter tends to see a rise in steering wheel restoration since some owners take their cars off the road when the weather gets cold. I've got the black 330's wheel masked and ready for its second coat of varnish, and Tom Wilson's steering wheel just arrived in the mail. Tom's car is in the process of a complete restoration, and is freshly painted. The arrival of the steering wheel means we're that much closer to his car getting done! Tom's website is: http://ferrari250GTE.com

This steering wheel is in pretty good shape, and the wood only shows minor cracking. I'll have to clean off the dirt and DNA off the back of the spokes, however, before I proceed with the polishing and refinishing!
Thanks to everyone who donated to this year's Pledge Drive already. I only run this drive through the month of December, but use the contributions to fund this website and expenses for Tomyang.net functions throughout the year. Thanks for your help.
Donations can be sent via Paypal through clicking this button below, or sent to my paypal account: tom@tomyang.net
You can also send checks made payable to Tomyang.net LLC
Tomyang.net LLC
P.O. Box 36
Hollowville, NY 12530
Thanks everyone for your support and I hope you like what you see on this website.
Tom Yang
Previous Restoration Day
Next Restoration Day
Home page