330 Leaf Spring Bushings
12/23/12
330 Leaf Spring Bushings
My friend Yale's car is in for some suspension work. After driving my car several years ago, Yale felt a distinct difference between the two. I attributed it to the worn spring bushings because I went through the trouble of replacing them. We finally found the time to do this job.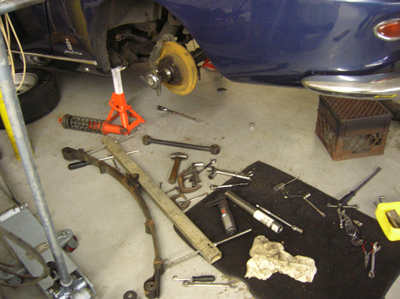 Pulling the rear springs out of a Vintage Ferrari is one of the least fun things to do, and probably the most dangerous if you don't have the right tools. In fact, many cars I've seen have worn bushings because it's such a pain to replace!

The bushing material used in the spring eyes is a very soft material that crumbles away over the years. If it doesn't all disappear, it still doesn't do much good deforming inside the spring eye allowing the shackle to move excessively. You can see how Yale's bushing has completely deformed from the worn out bushing. You can often feel this deflection when driving a car that seems to feel loose in the rear end, especially when taking a corner. The really worn ones will rattle and clunk.

Digging out the bushing is pretty easy as it's soft and crumbly. I'll machine new ones from a harder material eliminating the slop.

When I took the wheel off Yale's 330, I found the hub filled with gear oil. This example is exactly the reason you need to put RTV on the washer and nut assembly on the axle shaft. On some cars, gear oil will not leak past the oil seal, but will find its way past the hub splines, behind the washer and nut. Eventually, the hub will fill up with oil and find its way out onto the wheel.
Thanks to everyone who donated to this year's Pledge Drive already. I only run this drive through the month of December, but use the contributions to fund this website and expenses for Tomyang.net functions throughout the year. Thanks for your help.
Donations can be sent via Paypal through clicking this button below, or sent to my paypal account: tom@tomyang.net
You can also send checks made payable to Tomyang.net LLC
Tomyang.net LLC
P.O. Box 36
Hollowville, NY 12530
Thanks everyone for your support and I hope you like what you see on this website.
Tom Yang
Previous Restoration Day
Next Restoration Day
Home page