Cavallino 2013
1/23/13
Cavallino 2013
I arrived in Palm Beach bright and early on Thursday after leaving the Tampa area well before the dawn. It's always worth the effort because I was greeted by some very nice cars on display at the Breakers. The owners and their restorers usually share the history behind the car and the details of their restoration or ownership. It's open to the public and a great opportunity to see the cars up close in a relaxed setting.

This year a group of us decided to pool our money together to get a large suite. This gave us the space to have a nice gathering place for friends of tomyang.net. The suite opened up to a large balcony space where we could spend the evenings outside. Coming from the Northeast where the weather report was showing single digit temperatures, I was enjoying the relatively warm nights.

I always meet new people every year in the Vintage Ferrari world, but there are some regulars that make the rounds. Claude, the hawk head parrot, is a familiar member of the club, and did a fly-by at our party. Two things went through my mind when Greg took my picture. One was, "I hope he doesn't bite my ear off!" and two, " I hope he doesn't poop on my jacket!" I'm happy to say Claude and I are still friends!

Friday was a hectic day for people showing cars the next day. Bob Smith from Coachworks spent the afternoon detailing two cars and invited me to see the cars. I was especially interested in seeing a 330 America he brought to the show.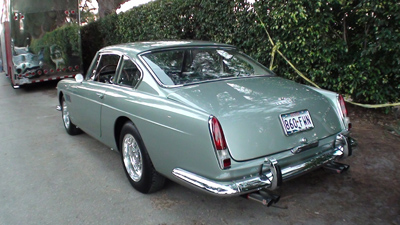 I saw this car last may when I was in the Dallas area, but it was nice to see it completed and ready for show. After the polishing was done, I joined the crew for a late lunch an talked shop. Bob's got a great bunch of guys and it was nice to have spent some time with them.

Saturday was a beautiful day with quite a few spectacular cars. As my business evolves, I find I am pulled in many directions during what seems like a very short show day. I was up at 6am, and before I knew it, the show was over and the cars were gone. I traversed the lawn dozens of times meeting owners, restorers, and friends. I was very busy, but when the day was over, I realized I had very few pictures to show for it! I think next year I'll have to find a way to clone myself so I can do more in the same amount of time, but for now, I'll just have to wait for next time!
Reminder: If you have a Ferrari related project, car, or idea you'd like to explore, I'd love to talk to you. I can also help if you're thinking of buying or selling. This website represents what I love to do, and now it's how I make a living, so if you'd like to do something together, let me know. It all begins with an e-mail!
Previous Restoration Day
Next Restoration Day
Home page